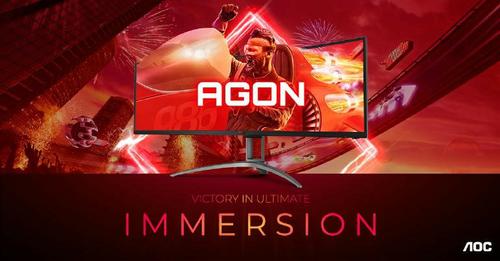 AGON AG493UCX2 – Immersive, productive, feature packed and now faster
Amsterdam, 28 July 2021 – The world's number one gaming monitor1 and IT accessories brand AOC is relaunching its gaming portfolio, from monitors to headsets, mechanical keyboards, mice, mouse mats and more for gamers of all levels, under its new umbrella AGON by AOC. Recently announced, the first category AOC GAMING defines the needs of digital adventurers. Now, the AGON category of monitors and peripherals creates an ecosystem of products that are compatible with each other for a fully immersive and stylish gaming atmosphere and can satisfy demanding, competitive gamers.
Built for heroes
Major forces are joining in the world, with heroes carrying the AGON banner. Heroes in the real PC gaming scene are the hard-core, competitive gamers as well as streamers/content creators. They combine their individual talents and teamwork to get to the top of the competition and showcase what one can accomplish with the right equipment. For these heroes, the AGON ("competition"/"contest" in Ancient Greek) series is surely the fitting companion they need.
Hence, the first models from the relaunched AGON series are two hero-worthy curved super-wides: the 49" (124.5 cm) AG493UCX2 with a whopping 165 Hz refresh rate, as well as the 49" AG493QCX with a 144 Hz refresh rate. With their 32:9 aspect ratio, the AG493UCX2 virtually combines two 27" QHD displays in one seamless panel with DQHD (5120 x 1440) resolution and the AG493QCX does the same for two 27" Full HD displays with DFHD (3840 x 1080) resolution. Both monitors employ VA panels for deep blacks, rich colours, and a high contrast ratio for stunning imagery, supported by their VESA Certified DisplayHDR 400 specification.
Great results require great ambitions
"Our previous AGON series continues to be the 'go-to' monitor brand for hard-core and enthusiast gamers. 49" AGON models are especially appreciated by simulation and racing fans, but also loved by remote workers and content creators. Thanks to the new models' higher refresh rates and the increasing number of games supporting the 32:9 aspect ratio, gamers can enjoy an immersive experience in even more game genres, such as FPS or MOBA," says César Reyes Acosta, Gaming Product Manager / IT Accessories & Touch Monitors Team Leader at AOC Europe.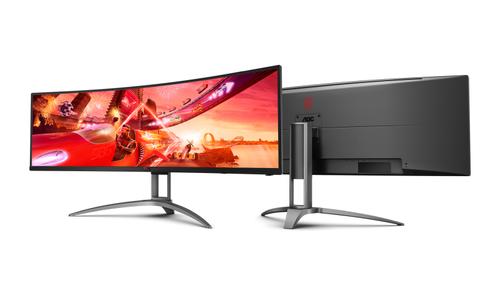 AGON AG493UCX2 - 49″ curved monitor with DQHD, 165 Hz refresh rate, HDR400
More to see, more to process
The 49" AGON AG493UCX2 is equipped with a super-wide 32:9 VA panel and borderless design, which looks like something out of a sci-fi spaceship with its futuristic curve. The 1800R curvature gently bends before the user and fills their peripheral vision, like a VR set on the desk, free of any obstructions in the middle of the display.
In sim racing games, large, super-wide displays such as the AG493UCX2 elevate situational awareness by showing a wider picture of the game world, which lets the gamer visualise the scale better in their minds and lets them corner at the perfect time to get ahead. Or, in flight simulation titles, this extra screen real estate makes displaying tons of little dials and indicators, visual references, charts, all that much easier. The AG493UCX2 particularly excels in games played from the first-person perspective, but all games benefit from additional screen space, whether RTS games, where gamers can see their home base and the frontier at once, or MMO games with lots of interactions going on at the same time.
Despite its enormous size, the AG493UCX2 is as fast and as responsive as its narrower cousins, thanks to its 165 Hz refresh rate and 1 ms MPRT response time (4 ms GtG), which gets the adrenaline rushing in competition. Content creators or streamers can connect two PCs (a streaming PC/work PC and a gaming PC) and control them with one set of peripherals thanks to the onboard KVM switch, and the USB-C connection can transfer video and power/charge laptops with up to 65 W at the same time. It is as much a productivity beast as it is an immersion machine.
Simulating the adrenaline rush
The 49" AGON AG493QCX is similar to its sibling, offering a Full HD-based experience instead of the QHD on the AG493UCX2. In a fully featured sim setup with a reasonable distance from the monitor, the AG493QCX delivers a great immersion experience, and unlike its QHD sibling, the lower resolution is less taxing on the GPU, bringing the total system cost down.
With a similar 49" VA panel, the AG493QCX's 3840 x 1080 resolution runs at a refresh rate of up to 144 Hz for lightning-fast visuals, with a response time of 4 ms GtG and 1 ms MPRT, which ensures a gaming experience with as little ghosting as possible. Both monitors also offer Picture-by-Picture mode to connect a work laptop and a desktop simultaneously (to its 2x HDMI 2.0 or 2x DisplayPort 1.2 inputs) and display the content of both side by side. While the AG493UCX2 also offers USB-C input, both feature a built-in 3-port USB hub to allow connecting peripherals easily.
Packed with features
To eliminate stutter and tearing, both models support Adaptive-Sync. They are certified with VESA DisplayHDR 400, decoding and displaying high dynamic range with richer colours (89% AdobeRGB, 91% DCI-P3 and 120% sRGB gamut coverage2 for AG493UCX2), suited for content creation. To deliver on all fronts, both models are also equipped with massive and sturdy metal stands with 100 mm height as well as tilt and swivel adjustments. Two 5W speakers in both models also create a rich stereo sound stage.
To make the OSD adjustments or select various games modes and gaming-specific features, users can either use the on-board buttons, the included remote control, or the AOC G-Menu software.
The first models of the new AGON series, the 49" AG493UCX2 and AG493QCX, will be available from September 2021 at RRPs of £939.99 and £719.99, respectively.