PRESS RELEASE
Futuremark® has today released its newest benchmark, 3DMark® Time Spy, and Radeon™ graphics results further demonstrate AMD's performance leadership in DirectX® 12.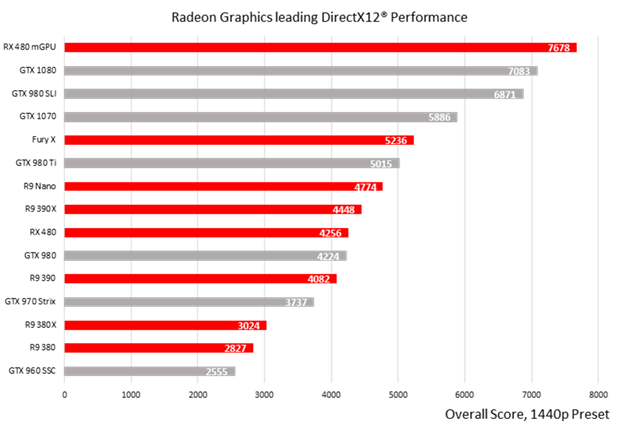 AMD has secured the pole position in the DirectX 12 era, building out its roster of DirectX 12 games, many of which are extensively tuned for the Graphics Core Next and Polaris architecture.
The DirectX 12 ecosystem is rapidly expanding as developers adopt the low-overhead API. With its wide range of industry partnerships, AMD has led DirectX 12 performance for the vast majority of game titles and benchmarks, including Ashes of the Singularity™, Hitman™, Total War™: Warhammer and the Total War™: Warhammer DX12 benchmark build, Quantum Break™, Gears of War™ and Forza APEX™.
With DirectX 12, AMD products can deliver higher framerates, more efficient GPU performance and lower latency, with support for advanced features including:
Multi-Threaded Command Buffer Recording: Multi-threaded command buffer recording opens up a wide communication lane between your AMD processor or APU and your AMD Radeon™ GPU – so more than one CPU core can talk to the GPU at a time. With DirectX® 11, most of the graphics work was loaded onto one core.
DirectX 12 Asynchronous Compute: a DirectX 12 feature exclusively supported by the Graphics Core Next and Polaris architectures found in many AMD Radeon graphics cards, this powerful feature allows for parallel execution of compute and graphics tasks, substantially reducing the time other architectures need to execute the same workloads in a longer step-by-step manner
DirectX 12 mGPU: DirectX12 mGpu enables incredible multi-GPU warfare with higher framerates, lower input latency, capacity for higher image quality and more.
You can learn more about 3DMark Time Spy here.
Testing conducted by AMD Performance Labs as of July 12th, 2016 on a test system comprising Intel i7 5960X CPU, 16GB DDR4-2666 Mhz system memory, Radeon Software Crimson Edition driver 16.7.1 or Nvidia GeForce 368.69 and Windows 10 x64 using Futuremark's 3DMark Time Spy benchmark on the 1440p standard preset. PC manufacturers may vary configurations, yielding different results. Performance may vary based on use of latest drivers. Test results are not average and may vary.