We took a detailed look at some of abit's upcoming products during our Far East coverage a short while back.

Trotting on over to abit's suite at the Monte Carlo hotel, much of what we'd seen, including its IN9 32X-MAX (nForce 680 SLI) motherboard, AB9 Quad GT (Intel P965) and AirPace WiFi SKU, were on show here.

A few weeks on and abit has found the necessary time to complete the design on its own NVIDIA nForce 650 SLI motherboard, which carries much of the goodness found on the expensive '680 model but ships with a much lower street price.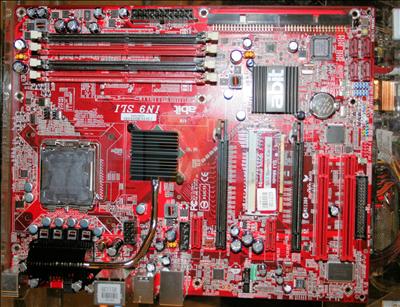 The IN9 SLI is that motherboard and it also happens to be a Fatal1ty edition. Mr Wendell has decided to promote his name on mainstream SKUs now, and abit has obliged with a midrange board which utilises abit's Silent OTES cooling system, solid Japanese-made caps, a couple of mechanical x16 PCIe slots that run electrically at x8 when in SLI mode, and, like its bigger 680i brother, power/reset buttons on the PCB.

The NVIDIA chipset adds support for single GbE, high-definition audio, 4 SATA2 ports and 8 USB2.0. The specifications indicate that abit could well be on to a winner, and its lower price point, suggested to be around $130, will broaden its appeal to a wider audience.

abit reckons that retail models are likely to hit the shelves in mid-February. We can't wait.

We were looking forward to taking a closer look at abit's iT-90HD; an Intel S775-supporting core logic from ATI. However, the much-delayed chipset, RS600, which'll integrate X700-class graphics and support HDMI (v1.2) output up to 1080p, was nowhere to be seen, so we had to make do with a slide showing its promise.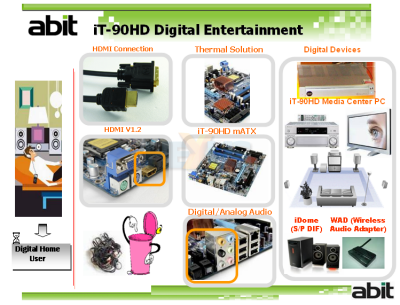 Mr Fatal1ty will get his name of this board as well, so get used to seeing his face on a slew of new abit products. The microATX-sized board, on paper, seems to make a compelling argument for being the base of a high-specification HTPC. We'll let you know just how good it is when AMD/ATI get their chipset house in order.