AMD is banking on the upcoming Llano APU to provide significant revenue in 2011. Launching first as a laptop-orientated chip in coming weeks, Llano, which combines the CPU and GPU on to one chunk of silicon, will be migrated on to the desktop a little while later.
Our best guess is that desktop-based Llano is to make an appearance sometime in July 2011. The chip'll amalgamate up to four Phenom II-derived CPU cores and a low-end Radeon HD 5000-series GPU, if reports are to be believed. The natural competitor to Llano is Intel's second-generation Core chips, formerly known by the code-name Sandy Bridge.
The introduction of Llano means that AMD's mid-range chips, just like Intel's, will move away from being merely CPU-only silicon in most markets. The bringing together of CPU and GPU is a radical enough shift for Llano to require a new breed of motherboard.
Gigabyte provided HEXUS with a desktop Llano board for preview purposes. The dead board shan't yield any performance numbers - they're under NDA anyhow - but gives us an opportunity to see how a tier-one manufacturer is designing around the new APU.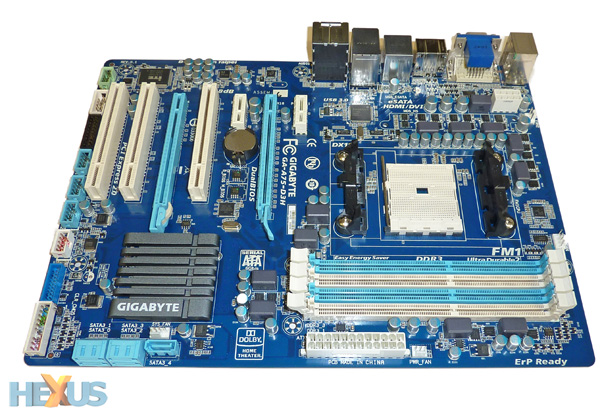 The GA-A75-D3H is a slimline ATX board that doesn't feel at all cluttered, thanks mainly to Llano requiring a solitary supporting chip. Breaking away from the AMx tradition, the board uses what is called the FM1 form factor. The bad news is that it's not compatible with current chips, so users with Phenom or Athlon processors will need to reinvest if going down AMD's APU route.
There's considerable room around the socket to mount beefy coolers on the two retention brackets that run parallel to the FM1 socket, and the DIMM slots tell us that Llano supports dual-channel DDR3, presumably at 1,600MHz speeds.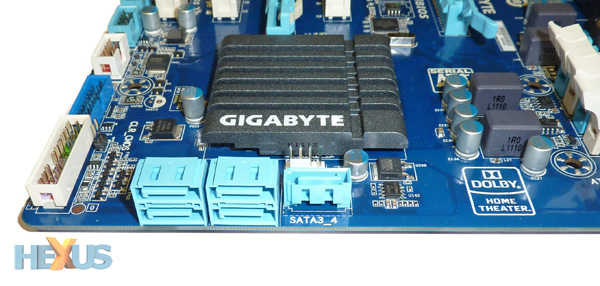 The single AMD-provided chip is known as Hudson D3, hidden under Gigabyte heatsink. Like the FM1 socket, Hudson is brand-new introduction. It's reckoned to support six SATA 6Gb/s storage ports - of which Gigabyte has five on the PCB itself - four native USB 3.0 ports, and, together with Llano, an eclectic range of digital displays.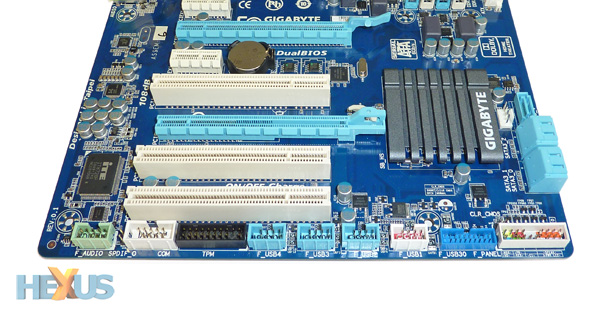 A peek at the expansion slots indicates Llano continues with venerable PCIc - Gigabyte's board has three such slots - and has two PCIe x16 slots and a couple of x1 for add-in cards. The way the chip apportions lanes for graphics hasn't been disclosed yet, but an educated guess would suggest that a total of 16 lanes are reserved for graphics, bifurcated to x8 in two-card mode. The nature of the layout also tells us that Llano is a decidedly mid-range offering; the enthusiast-class chip will be the Bulldozer-based Zambezi, scheduled to launch shortly after this APU.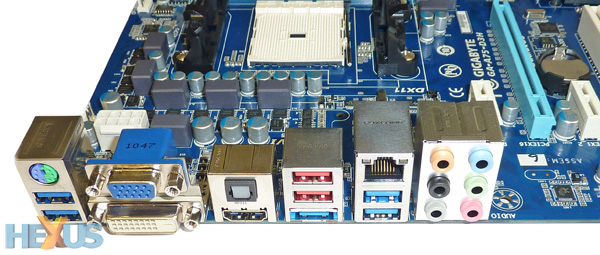 Llano's inherent qualities lend themselves to a board geared for HTPC usage as much as general computing. Gigabyte's A75-D3H goes for the visual output trio of VGA, DVI and HDMI that are powered from the graphics portion of the APU. We'd expect the chip to provide the latest version of AMD's UVD video-acceleration technology.
Four USB 3.0 ports are all run off the Hudson D3, while Gigabyte also brings in eSATA into the mix. Looking to woo users who want a general-purpose PC with a particular bias towards multimedia usage, the A75-UD3H will make sense if AMD manages to price retail Llano APUs at decent levels.
We're intrigued to find out how AMD's APU will compare against Intel's established Core i3 and Core i5 Sandy Bridge chips, and should it prove to be good, motherboard maufacturers will be lining up to provide Llano-supporting boards.
Tempted by how Llano and its supporting boards are shaping up? Reckon that Intel's Sandy Bridge is a better bet? Let us know your thoughts in the HEXUS.community.