Trinergy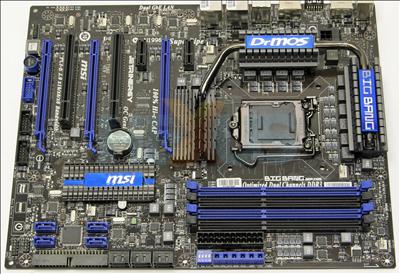 Based on the LGA1156 form factor, MSI's Trinergy doesn't look all that cluttered when compared to top-end X58 alternatives. The lack of QPI and triple-channel memory is to thank for that.
At first glance, there's plenty to admire - including MSI's recently-introduced colour scheme of black, blue and silver. The board is about as good looking as they come, and the black PCB is further enhanced by dark chrome heatpipes - even the CPU socket is given a darker look.
Eagle-eyed enthusiasts will also note that the board features not a single solid capacitor, each and every one is of the Hi-C variety, resulting in server-grade stability, says MSI.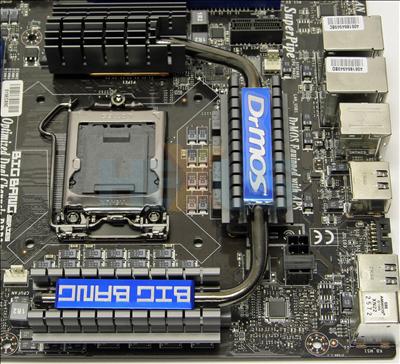 A trio of passive heatsinks are well spaced around the LGA1156 socket, leaving plenty of room for cooler installation.
All three are fairly low profile, and as with recent MSI boards, they're equipped with SuperPipe technology - namely 8mm thick copper heatpipes that should, in theory, provide improved cooling performance.
Trinergy makes use of an eight-phase PWM circuit for regulating the power to the CPU, and MSI's active-phase switching (APS) technology should help save power by switching off phases that aren't required.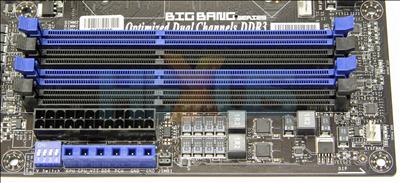 MSI's dual-channel DDR3 memory slots officially support speeds of up to 2,133MHz. V-Kit is also present, allowing users to externally check voltages via a multimeter.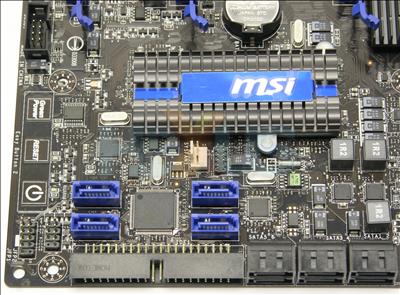 A massive 10 SATA ports are available, six angled to the edge of the board and an additional four - powered by a JMicron JMB322 controller - sit face up.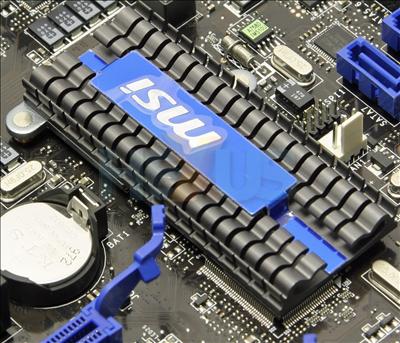 The funky-looking Southbridge heatsink is notably low-profile, and won't impede graphics card installation. Speaking of graphics cards, this is an area in which Trinergy can impress even the extreme user. With an on-board NVIDIA NF200 PCIe bridge chip, MSI has at its disposal a total of 32 PCIe 2.0 lanes - culminating from 16 in the NF200 chip and 16 in an Intel Lynnfield processor.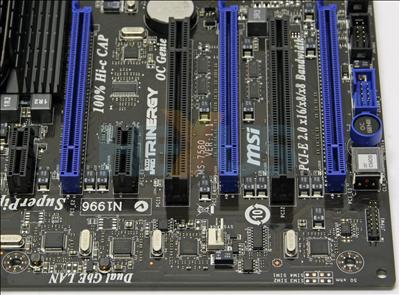 With 32 lanes, Trinergy is able to facilitate full support for three-way SLI or CrossFire configurations. With three discrete GPUs installed, users are looking at per-lane performance of x16, x8, x8.
To the right-hand edge is MSI's now-familiar OC Genie - a one-touch button designed to simplify overclocking. Using a dedicated overclocking processor, OC Genie will automatically adjust CPU clock speed, CPU voltage, memory frequency and memory voltage to determine and implement the optimum overclocked settings.
The first PCIe 2.0 slot looks a little close to the nearest heatsink, but don't worry, it's suitably low-profile where required:
The rear I/O panel is looking a little simple, that'll be due to the lack of integrated audio connectivity - that's reserved for something a little better. What you do have is dual Gigabit Ethernet, a bevy of USB 2.0 ports, a pair of powered eSATA ports, FireWire and your standard PS/2 keyboard and mouse connectors.

There is a little something sitting between the eSATA ports, a connector for one of MSI's two added extras.