Extreme P55
Intel's P55 chipset brought the goodness of Nehalem architecture to the mainstream, but there's no reason why it can't be kitted out to form the makings of an extreme gaming motherboard.
MSI has been promising to do just that with its new line of "Big Bang" motherboards, starting with Trinergy - an extreme board packed with an arsenal of high-end features, including an NVIDIA NF200 chip used to facilitate a trio of PCIe x16 slots for for three-way SLI/CrossFire configurations.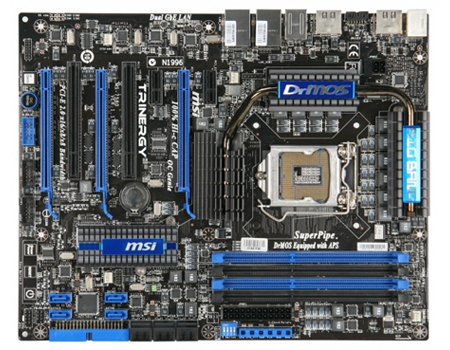 MSI reckons its the only P55 solution to offer true three-way SLI (though, the likes of ASUS and GIGABYTE would be right to argue otherwise), and the high-end board is armed with a bevy of overclocking tools, as well as the promise of an "ultimate audio experience".
Priced at £209 and expected to hit retail early in December, it's a high-end offering that hopes to become the perfect accompaniment to your Lynnfield Core i5 or Core i7 processor. Let's take a look.