Making a statement
Two companies in danger of getting left behind in the tablet market joined forces in central London today to unveil their tablet joint effort.
The protagonists were Acer and AMD, and the product was the Acer Iconia Tab W500, which is a Windows 7 tablet running the AMD C-50 chip. This is a Fusion chip of the Ontario family (which means it runs at 9W, as opposed to the E-series/Zacate family, which runs at 18W), clocked at 1 GHz, and featuring a Radeon HD6250 GPU.
Other specs include up to 2GB DDR3, a 32GB SSD and a 10.1 inch 1280x800 multitouch screen, apparently featuring Gorilla Glass. The price will start at £449, but will cost £80 extra if you want to buy it with a dockable keyboard. It will launch on 8 April, and a version with embedded Huawei 3G is due out in May costing £529, or £579 with keyboard.
This pricing isn't bad - less than the equivalent iPad 2 - and Acer UK boss Bobby Watkins insisted at the event that there is a market for Windows tablets. "The W500 is for users who have felt the pain-point of not being able to do the things they're used to doing," he said, such as certain types of networking, Office docs, etc.
This all seems like a pretty good effort, especially since neither company has exactly set the tablet world on fire so far, but I couldn't help wondering if a good effort would be enough. Watkins' point about there being demand for a Windows tablet was well made, but surely that market is shrinking rapidly as more people familiarise themselves with iOS, Android, etc.
Let's not forget that Microsoft tried and failed to make tablets work for a decade before the iPad was launched, and while Windows 7 is far better suited to tablets than previous versions, it's not specifically designed for mobile devices. The other big reason why x86 tablets haven't worked to date is battery life. The C-50 chip offers four to six hours of battery life, which is half of what you can expect from the iPad.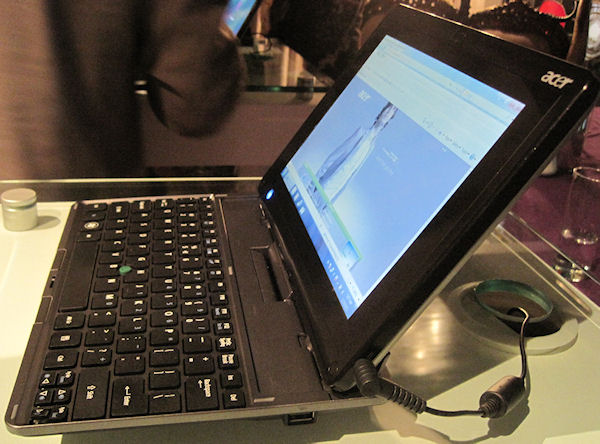 And then there's the central premise of Acer's marketing pitch for the W500 - that it's the best of both worlds. Not only is it a Windows tablet, but it docks with a keyboard, to turn it into a proper notebook. As with many convergent devices, there's the danger of it just as easily being the worst of both worlds - being neither as powerful as a notebook, nor as portable and touchscreen-optimised as a tablet.
The pricing of the keyboard seems wrong too, and maybe it will come down before launch. But £80 for a peripheral that doesn't even come with its own battery seems a bit steep. Just as with the Lenovo U1, it's also not obvious when and why you would detach the screen if you had invested 80 notes on the keyboard dock.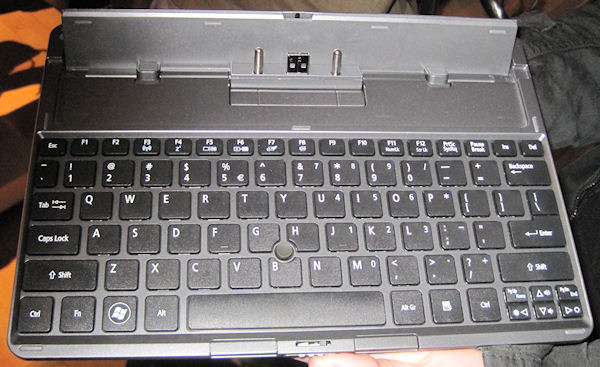 To me this event came over as AMD demonstrating it's a player in the tablet market, and Acer supporting it. But the dynamic was clearly strained. Also discussed at the event were the Iconia A500 and A100 - ten and seven inch Tegra 2 Android 3.0 tablets. Acer is clearly keen to talk these tablets up too, but more than once Watkins stressed that this event was about the W500. The A500 will launch on the same day as the W500 and cost the same too. The A100 should appear in May.
It's worth remembering that the AMD CEO - Dirk Meyer - was kicked out by the AMD board at the start of the year for, it's generally assumed, not being proactive enough in the tablet market. I'm confident that the talk is of little else at AMD towers these days, and those AMD employees who know what side their bread is buttered on are going to be conspicuously bullish about AMD's tablet prospects.
But I think history will reflect on the W500 as being what it is: AMD's first effort. At 9W, the chip uses a lot more power than any ARM-based application processor, and I'm sure AMD is working hard to produce chips that will get much closer to that 10 hour battery life precedent set by Apple.
In fact it's worth noting that AMD's low-power Fusion platform is called 'Brazos', which is Spanish for 'arms', although I have to concede that Chris Davies of Slashgear was first to arch his eyebrow at the irony of this when I pointed out the translation at the Acer event.
This event was about saying 'AMD does tablets' and long-time partner Acer conspicuously supporting it. That's not to say the W500 isn't a decent product, I'll leave that to the reviewers to decide, but it doesn't need to be a huge success for AMD and Acer to have made their point.
My first thoughts were that the battery life and the price of the battery-less keyboard dock are points against it, and Windows will deter as many people as it attracts. But the price-point is competitive and, most importantly, it will put an AMD device on the shelves alongside the iPads, Xooms, etc. Not a moment too soon.