Dual-GPU X1950 Pro in the flesh.
Just before Christmas we showed you a Sapphire dual-GPU X1950 Pro graphics card that supported internal CrossFire.

Popping along to the Sapphire suite, we saw a working sample running 3DMark 06.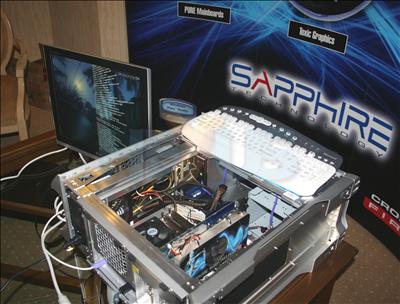 It's a big beastie all right. Want to see how big?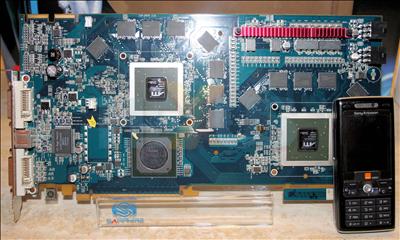 Laid bare and next to a not-so-small Sony Ericsson K800i for reference, the dual-GPU board packs in a couple of Radeon X1950 Pro GPUs clocked in at a reference 580/1400 for GPU and RAM, respectively. Hooking them together is a bridge chip that you see just below the left-hand GPU. The card is equipped with a 1024MiB framebuffer, equally split over both GPUs. The PCB is also taller than normal, although enthusiasts considering this kind of SKU should have adequate room in their chassis.

Power requirements dictate that, like NVIDIA's GeForce 8800 GTX, two PEG connectors are required to supply the juice when the card is put under maximum 3D load. Also, note the CrossFire connectors on the top-left of the card; Sapphire's looking towards a quad-GPU setup that, effectively, is CrossFired twice. We'll have to wait until supporting drivers are available, though.

Launch date for retail models is pencilled in as mid-February and the expected price of this behemoth is reckoned to be around £250. It will be interesting to see how it compares with, say, the single-card X1950 XTX.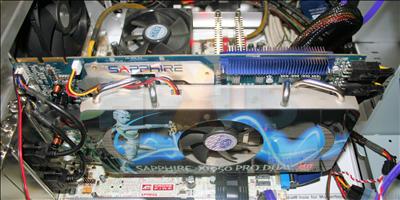 Wicking away the heat produced by the twin GPUs is a heatpipe-based cooler that was reasonably quiet under load.

Sapphire pointed out that the design for this interesting card was an in-house affair with its Taiwanese engineers architecting it from the ground up, so it's unlikely we'll see other AMD/ATI partners with a similar SKU any time soon.