Let's get ready to rumble
The fierce competition between AMD and NVIDIA is about to get spicier with the introduction of genuinely high-end graphics cards from both companies.
In the red corner, hailing from Toronto, Canada, and weighing in with a meaty punch is the AMD Radeon HD 6990 dual-GPU card, formerly known by the code-name Antilles.
Fending off the Canuck beast is the job of the also-dual-GPU NVIDIA GeForce GTX 590, said to be primed for a mid-March launch. This means that both cards should be released to the press at roughly the same time.
While confirmed specifications and release dates for both cards are still close-kept secrets, AMD is the first to bring its heavyweight contender to the public's critical gaze.
Common sense dictates that the Radeon HD 6990 will take the form of two power-optimised HD 6970 GPUs on one PCB. Spitting out some conjectured numbers, this translates to a jaw-dropping 3,000-plus shaders, 4GB of onboard memory and 300GB/s of combined memory bandwidth: put that in your pipe and smoke it!
Such presumed power requires a card TDP in the region of 300W, though AMD's PowerTune technology will ensure that no application can force the GPUs to put the local electricity grid on red alert.
The following AMD-provided shots have been released to nurture and whet your appetite for a graphics card that should chew through benchmarks with fervent alacrity.
Big beastie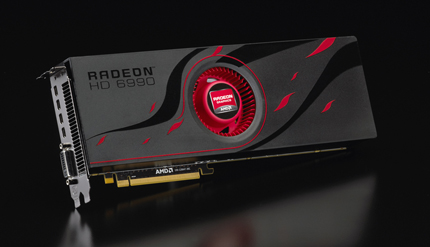 The reference card looks surprisingly muted for an ultra-high-end offering, and it is difficult to tell it apart from a Radeon HD 6970 with a mere cursory glance.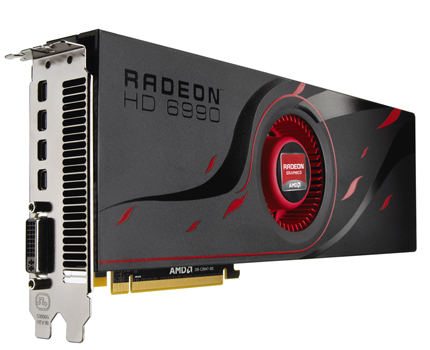 But look a bit closer and the rear outputs hint at some serious horsepower on tap. Not messing around with a range of eclectic outputs, the HD 6990's power is best put to use by pushing out video through miniDisplayPort connectors. Add the four to the solitary dual-link DVI port and, via an adapter or two, a six-screen setup looms large.
And this is good thinking by AMD, because a dual-GPU card outfitted with a large local frame-buffer and significant grunt is wasted on one or two screens.
Look to run a 5,040x1,050-pixel resolution or, even, a 5,760x2,160 (six full-HD screens) setting and the card will be taxed properly.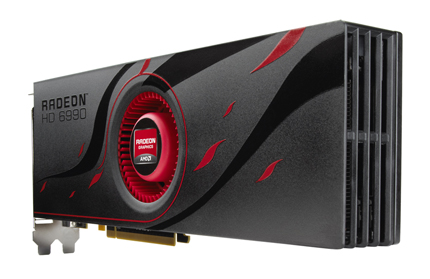 Grrr! I'll eat your pixels for breakfast, but I may not be able to play Crysis 2 at 1,680x1,050 at high-quality settings.
We had more commentary on an AMD-provided picture that showed the PCB with the cooler removed, though AMD rained on the naked-card parade by embargoing the picture until the official launch. You can better your bottom dollar that it's not too far away, then.
Of course, the burning issue is one of speeds and feeds. AMD has chosen to divulge neither, which is shame, but both specification and frequency need to be very handsome to stall the threat of the GTX 590 from NVIDIA.
A necessary launch
The launch of this pixel-munching monster has greater importance attached to it than previous releases, due to how the emergence of APUs - CPU(s) and GPU(s) melded on one piece of low-power silicon - has eroded the sustainability of the low-end discrete graphics-card market. AMD needs to justify have a separate GPU in your PC, and what better statement of intent than with the release of a big bruiser.
AMD and NVIDIA will undoubtedly release their respective ultra-high-end GPUs with much fanfare and bombast, but which will take the title of fastest graphics card in the world? And which will be able to Crysis 2? Wait a few more weeks to find out.