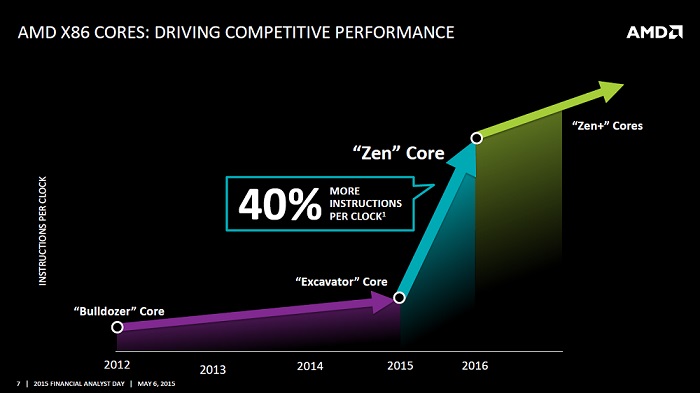 AMD revealed more product details than usual during its annual Financial Analyst Day this week. Part of the call was set aside to discuss, for the first time, the potential of the all-new Zen core that will power the company's high-end CPUs from next year onwards.
The Zen project is spearheaded by legendary CPU architect Jim Keller whose list of design credentials include the Intel-beating AMD K8 architecture and Apple A4 and A5 SoCs.
Zen promises 40 per cent more instruction-per-clock-cycle throughput via the use of simultaneous hyperthreading implemented in a grounds-up architecture. PowerPoint presentations rarely fail to impress, but do you believe that AMD can give Intel a good run for its money for next year's performance processors?
It's an important point, too, because it can be successfully argued that Intel's current performance hegemony has stifled the need to push desktop CPU performance to the next level. Your thoughts and comments, as usual, are welcome in the section below.
Have a tech-related question you'd like to see featured as the HEXUS QOTW? Send it over using our contact form and it may well appear! We're always open to ideas, and while we can't promise that all questions will be published, we'd love to hear your suggestions.