Like building your own system? You'll love this
There's never a shortage of new chassis at the annual geek-fest here in Taipei, Taiwan, but there's usually one that stands out above the crowd.
For 2010, we'd hand that accolade to Antec's Lanboy Air. The lego-like modular chassis, pictured below, was out on display at Antec's booth so we dove in for a closer look.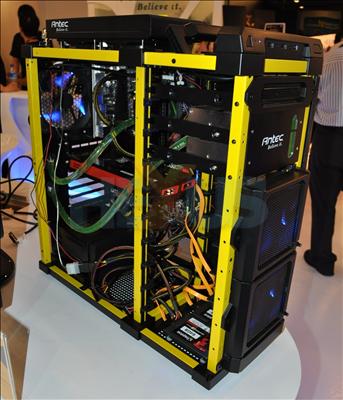 First things first, don't let the product shots put you off. We had our doubts regarding the design, but in person, it actually looks the business. It's somehow rugged-looking, yet cute, almost toy-like, but sturdy, and even the JCB colour scheme managed to get our approval.
Having seen the chassis in the flesh, we'd actually go as far as to say it's one of the coolest enclosures we've seen in recent years.
But perhaps that opinion is swayed by the fact that the Lanboy Air doesn't just look unusual for the sake of differentiation, it's actually built for a purpose and brings many new and innovative features to the chassis marketplace.
Using a modular approach, the chassis is pieced together from multiple panels that attach to the yellow/blue frame in an arrangement that suits your build.
The majority of the panels - front and sides - are mesh, allowing for users to attach fans at will. We're told you can get over 20 fans attached to the chassis in some way or other, but the number of configurations is even greater than that.
A column used to house drives - be they hard disk, solid state or optical - is completely modular, with users able to move or rotate mounting bays as they see fit. By rotating the bays, you can choose to have drives facing forward or to the left/right - if you opt for the latter, the mesh panel on the side acts as a door to provide access.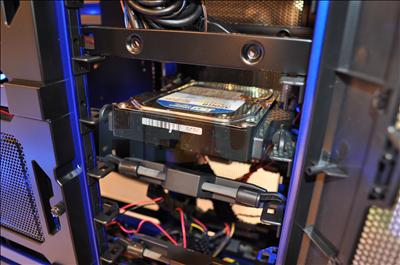 Hard disks, too, are well catered for, with the Lanboy air using an AirMount mounting mechanism - through which up to six drives are suspended in the air using flexible cords that should dampen noise.
At the heart of the chassis, the PSU can be mounted top or bottom, and the motherboard rear I/O panel can also be moved up or down accordingly. There's built-in support for USB 3.0, room for water-cooling radiators to be mounted up top and integrated carry handles that flip up for the LAN-party crowd.
But what about the potential dust problem? The jury's still out on that one, but Antec reckons that an open air chassis, when used regularly, won't gather large amounts of dust thanks to the available airflow.
In summary, we came away impressed. The Lanboy Air looks impressive in person, it's sturdy and doesn't feel cheap, and its unusual modular design could manage to make the system building experience fun all over again. More importantly, there's plenty of scope for future developments - we reckon coloured panels are a certainty, and we'd like to see a second-generation model that allows for chassis size to be changed at will.
The Antec Lanboy Air is scheduled to launch in July priced at $219 (approximately £150 excluding VAT). Hit page two for a gallery of close-up shots, as well as a sneak peak at a 2011 prototype Antec chassis.