Following Amazon's announcement of the Kindle Paperwhite on September 6th, we felt somewhat left-out as the device went on sale in the US, with no sign of UK release details. Yesterday, however, Amazon decided to include us in its grand scheme to take-over the world of books by announcing that the Kindle Paperwhite WiFi and 3G would be heading to the UK on October 25th.
Stock will initially be limited to two per customer, with the Paperwhite WiFi priced at £109 and the 3G edition £169, matching the prices of the previous Kindle Touch.
Unlike the Kindle Touch, the Kindle Paperwhite has no speakers or headphone socket, it's audio free, likewise, storage is down from 4GB to 2GB of flash and, whilst we suspect that this is in-part an attempt to push this customer base onto the Kindle Fire, it's also an attempt to keep both the price and the size of the unit from increasing, as Amazon has naturally included a few new goodies.
The most obvious new feature is the Paperwhite's evenly distributed LED front-light, which has now been revealed to be powered from four LED sources located at the base of the display. This of course calls for a larger battery (perhaps another reason for a loss of speakers), however Amazon has been able to promise eight weeks of front-lit reading whilst keeping the weight of the device in-line with that of the Kindle Touch, which is still 25g lighter than the Kindle Keyboard.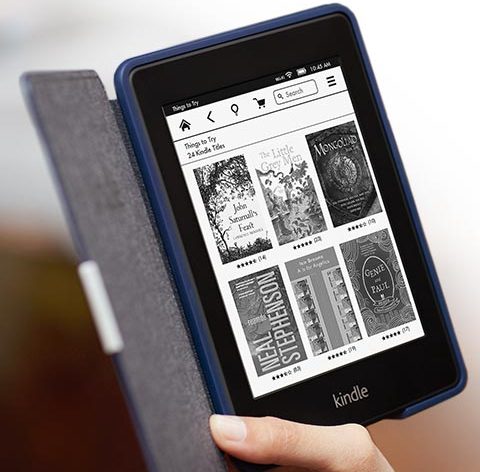 The device's touch-screen has been enhanced as well. With the presence of a plastic light-guide for the front-light, there's no-longer an advantage to screen glare by using the infra-red touch system of the previous model and so, a more responsive capacitive screen is now in play, which, according to early reports, appears to be powered by a faster processor, with the overall touch interface feeling more responsive and user-friendly, in part thanks to a redesigned OS. This has also led to a reduction in the device's bezel extrusion from the screen.
The display itself now boasts an enhanced 10:1 contrast (previously 8:1) and a resolution of 1,024 x 768, boosting the device's effective PPI from 167 to 212.
Most importantly, perhaps, it appears as though the UK edition of the Kindle Paperwhite will be ad-free from the get-go, something which US customers have to pay $20 for to remove. There will also be a leather cover available for £35, which, much like a smart-cover on an iPad, will automatically wake and sleep the device on open and close, which is magnetically latched.
It sounds pretty awesome, but will you be ordering a Kindle Paperwhite when it's released?