Amazon revealed a flurry of new Kindles at its press conference last night, amongst which were new Kindle Fire tablets, however, for hardcore readers, even super-duper high resolution displays aren't enough and eventually those sub-pixels wear away at one's eyes. This is of course, where e-readers step in and, Amazon certainly has a lot of tweaks and changes in-store.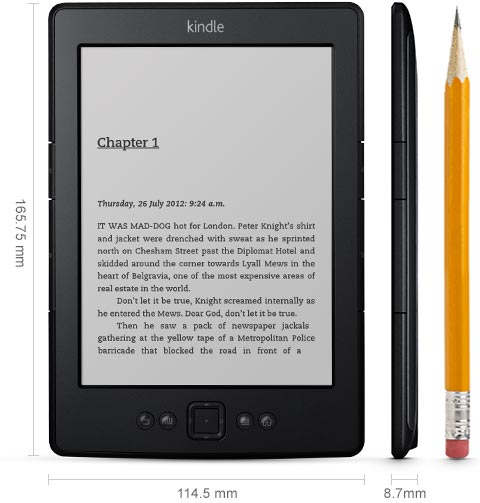 First-up is the replacement to firm's low-end mass-appeal e-reader - that's the one that's priced at £89, featuring button navigation. Amazon's new offering weighs the same, features the same E-Ink Pearl display, battery-life and so on, in fact, not much has changed beyond a new, darker appearance.
The e-reader does appear to feature a new CPU, with Amazon claiming, yet again, 15 per cent faster page turns, however, the most notable change is the price, with Amazon offering this bad boy for £69, a significant drop over the previous generation and, something which is going to make potential buyers of the Kobo competitor think twice.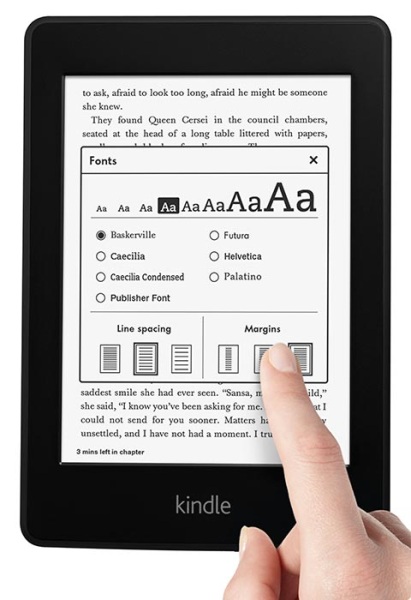 Amazon had two more e-readers to announce at its press conference, the WiFi and 3G replacements to the high-end Kindle Touch. Without a doubt, these releases had more to offer in the way of hardware changes.
Most notably, Amazon has bolstered the resolution on these Kindles for the first time, moving from the old SVGA 800 x 600 up to an XVGA resolution of 1,024 x 768, seeing the PPI of the device rise from 167 to 212. Capitalising on the device's new resolution, Amazon will be offering new fonts and sizes, with touch response times appearing faster than ever. Likewise, contrast has also been boosted by 25 per cent, though, it's possible that this figure was made possible when running the device's front-light.
That's right, the new Kindle Touch is to be known as the Kindle Paperwhite, thanks to its LED front-light. We're choosing to call this a front-light as it's actually an optical guide that sits on-top of the display, channelling light evenly across the surface, with no obvious light sources. In theory, this approach should render the same kind of results one would expect from using a standard booklight, only with a much more even distribution.
We do have a little concern over the effect this extra 0.5mm layer will have on the screen's reflectivity and paper feel, more so because Amazon has now opted away from the infra-red touch system found in Paperwhite's predecessor, inserting a capacitive layer between the screen and the light guide, creating a further distance from the surface - though, this does allow for a slimmer device. Likewise, a subtle though important difference for some, the Paperwhite will not feature any speakers, with this feature being offloaded to the Kindle Fire tablet line-up.
Alas, Amazon has not released any UK information for these variants and, it appears as though we'll have to wait a little longer than those across the pond to place our hands on one. Like the £69 Kindle, we are expecting a price drop, however, it's not clear if any of these devices will be ad-supported or not.