It's official folks, it's finally heading our way, Amazon's Kindle Touch will be available for delivery from April 27th.
Whilst slightly larger and thicker than the current-gen £89 Kindle, the device fills the functionality hole previously occupied by the Kindle Keyboard and more.
The Kindle Touch, of course, features an infra-red touch-screen, where this differs from the capacitive screens we've become accustomed to on smartphones, is that it will detect any form of touch and does not require direct finger contact; most importantly, however, unlike both capacitive and resistive touch technologies, that's no need for a special sensor net/layer to be integrated into the screen, keeping the Kindle Touch's screen as crisp and easy to read as all those that came before it.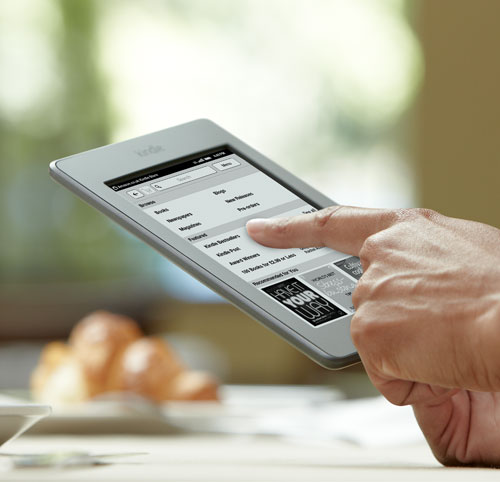 Like the Kindle Keyboard, the device features a speaker, a superior 4GB of memory and a larger battery, however, whilst being both larger and heavier than the current £89 Kindle, the Touch integrates these same features whilst weighing 28g less and is 18mm shorter in height and 3mm shorter in width than the Kindle Keyboard, though, the Touch is a little fatter, by 1.6mm.
The greatest contributor to weight and size loss is, of course, the removal of a dedicated keyboard from the Kindle Touch, however, the touch-screen keyboard on offer is responsive and typically more usable than the small, circular buttons on the Kindle Keyboard. This responsiveness is in part enabled by the move from the ARM 11 processor found in the Kindle Keyboard to the ARM Cortex-A8 found in the current generation; this contributes to overall device responsiveness, including the experimental web-browser.
The Kindle Touch will be released in WiFi and 3G variations, priced at £109 and £169 respectively.