Turns out a Service Pack for Windows 7 isn't the only major update being rolled out to consumers this week, as Amazon has announced that a free software update for its Kindle reading device is now being made available via Wi-Fi.
The update, dubbed Kindle software version 3.1, will automatically be pushed out to Kindle owners connected to a Wi-Fi network "over the next few days", but those who're in a hurry can manually download the new software for installation via USB (as detailed here).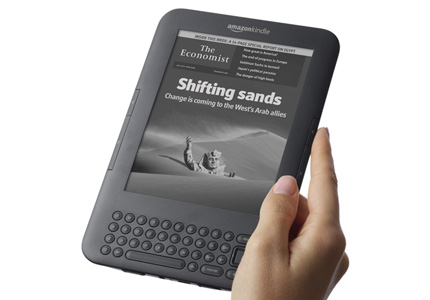 Launched as the first major update for last year's Kindle 3, software version 3.1 introduces a handful of new features including the addition of "real page numbers" to tens of thousands of books. Displayed alongside Amazon's proprietary locations, the page numbers will match those in print so e-book readers can easily reference passages with their old-school, paperback friends.
Public notes, another new feature, allows Kindle users to make their book notes and highlights available for all to see. Described by Amazon as "a new way for readers to share their excitement and knowledge about books", the opt-in service will let readers share their thoughts on passages with the entire Kindle community.
Similarly, the new "before you go" function will let users easily rate a book from within the last page, while a new newspaper and magazine layout vows to make it "easy to scan newspapers and magazines more quickly".