Yesterday at the annual BlackBerry Jam developer conference in San Jose, Ca. Research In Motion (RIM) detailed many features of its new mobile OS, BlackBerry 10 (BB10). The new mobile platform is expected to launch in the first months of 2013. The BB10 OS encourages users to flow through their tasks, revolving around the BlackBerry Hub which users will be able to take a peek at whatever else they may be doing on their device. This contrasts to the iOS and Android "in-and-out" app switching behaviour, according to RIM.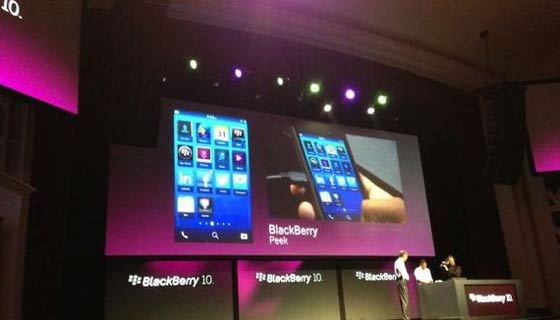 Flow around the hub, sometimes take a peek.
The new OS design is called BlackBerry Flow and "the whole experience aims for a seamless continuity" reports TechRadar. Thorsten Heins, CEO of RIM, said the new BB10 presents an experience that encourages a user to flow around the OS, not just switch in and out of apps like on rival platforms. He said "Nobody should have to worry about opening apps, they should just be there" according to Pocket-Lint.
Everything in the new BB10 flows around the BlackBerry Hub. Just like in the BlackBerry Playbook OS there will still be apps but they float above the hub like a stack of playing cards. The "cards" will be able to show live data similar to a Windows Phone live tile.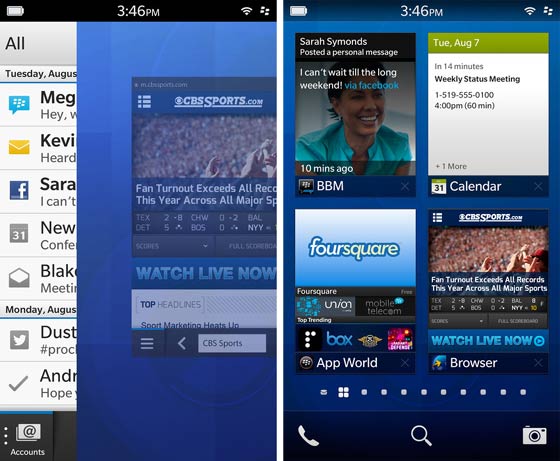 BB10 peeking and card desk pictures from Pocket-Lint
BlackBerry Peek allows users to take a glimpse at the hub, wherever they may be in the BB10 OS or an app, without exiting or switching from their current activity. This single finger feature lets users swipe to the right to take a look at inboxes and social notifications. Pulling down lets users look ahead in their calendar. Elsewhere in the OS contacts are fused with their previous calls, messages and social network news, again like in Windows Phone (the People app).
Another interesting aspect of the new BB10 is the BlackBerry Balance system. This is where the BlackBerry owner will have two accounts on the phone, for instance, one for work and one for personal. There will be some overlap where necessary, like in the calendar, after all there is only one of you, but to look at work things from the personal side would require a password. These kinds of OS rules are probably meant to appeal to enterprise with an eye on the BYOD dilemma.
Finally looking at hardware, Pocket Lint says that "RIM has announced it is releasing a second developer device called the Alpha Dev B" and "they've already given out 5,000 of the first version - that will allow developers who apply to see how some of the new features work without actually giving them a full working phone" CEO Thorsten Heins said BlackBerry keyboards, both software and hardware will be taken to a whole new level thanks to improvements in predictive text.
Launch date slips out
It is quite possible that the launch date for BB10 phones is 21st January 2013. RIM asked for BB10 apps to be submitted before that date and Alec Saunders, vice-president of developer relations for Research In Motion, announced that developers who get apps in for "launch" will receive a limited edition BB10 device. Pocket Lint reports that after saying the word "launch" Mr Saunders "visibly paused", whoops.