A freshly leaked image of the upcoming Samsung Galaxy Note III has hit the internet via a Chinese Baidu chat forum. The image of the i9500, covered in fingerprint smears and placed side by side with a Galaxy Note II, is accompanied by a smattering of tech specs. The latest edition of Samsung's ground breaking phablet won't be quite as big as the Galaxy Mega 6.3 but will of course come with the enhanced stylus functionality we expect.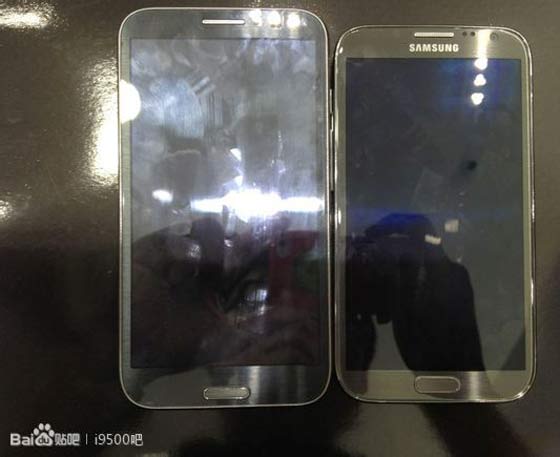 Here are the key specs of the Samsung Galaxy Note III, as translated by the Singapore based VR-Zone tech news site, which also has a Chinese edition.
Samsung Exynos 5410 octa Chipset
Quad Core 2.0GHz ARM Cortex A15 + Quad Core 1.7GHz ARM Cortex A7
3GB Of RAM
5.99-inch 1080p (1920 x 1080 pixels) Super AMOLED display
32GB Of Internal Storage
MicroSD Card Support
Removable Battery
Android 4.2.2 Jelly Bean
S-Pen
Looking through the table above you can see the key upgrades when compared to the Samsung Galaxy Note II. As a reminder the Note II has a Samsung Exynos 4 Quad-Core 1.6GHz (ARM Cortex-A9) processor paired with 2GB of RAM and sporting a 5.5-inch 1,280 x 768 Super AMOLED HD screen. All those key specs are trumped by the rumoured specs of the Note III.
The official unveiling of the Samsung Galaxy Note III is rumoured to be at IFA 2013, the two previous iterations were launched at previous IFA events. That's quite a long way away, in September, so it's surprising to see this leaked example so early. As with all leaks; keep your salt cellars handy with regard to the details.
Samsung Galaxy Tab 3 announced
Today Samsung announced the latest in the line of Galaxy Tab Android tablets. This tablet is the third iteration of the Tab line and as you might expect, it is an evolutionary step rather than a revolutionary one. The specs, incrementally better than the Tab 2, include; a 1.2GHz dual-core CPU and a new "thinner bezel". Several other specs haven't changed, such as; 1GB of RAM, 8/16GB in-built storage options (plus microSD card up to 64GB), 1.3MP front camera and 3MP back camera and a 4,000mAh battery. The Galaxy Tab 2 will come with Android Jelly Bean 4.1 installed. Physical dimensions are; 111.1 x 188.0 x 9.9mm and it will weigh around 305g.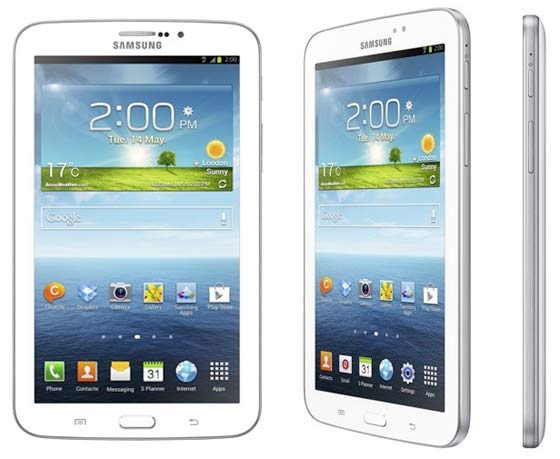 The new Tab will initially become available in May, in a Wi-Fi only version, followed by a Wi-Fi and 3G version in June. Readers will be pleased to know that the 3G version will be able to make calls. Product availability will vary by market and Samsung hasn't given us an indication of pricing as yet.