One of the better mini-game compilations on Wii
The mini-games in The Guinness Book of Records are, aside from a few exceptions, well implemented, challenging and good fun to play. Introduced by clear instructions for each individual challenge, that show you how to hold and move the Wii Remote and the Nunchuck, there's a wide variety of games that take good advantage of the Wii-Remote and indeed the Nunchuck and have you waving your arms around to test the likes of your spacial awareness, logic and puzzle-solving skills or simply your sheer grit and determination.

Choosing up to 4 friends to participate, the game begins by giving you the option to customise your cartoon-styled character with various clobber, some of which you can unlock in-game. Considering that you rarely see your avatar in-game, it's a pointless exercise, though it does make your character stand out on the multi-player leader-boards should you want to look different from the crowd.

Then, it's onto the world map where you can visit different countries, which are represented by famous landmarks. From there you can choose from one of three records to break and by achieving qualifying targets, regional, national and world records you can earn virtual gold, which allows you to unlock more challenges and items for your character.

The first record that we attempted to break was the 'Highest videogame score,' an 'Asteroids' type of game where you have to move the Wii Remote around to guide and rotate a space-ship, whilst using the 'A' button to fire in order to rack up the highest score as possible inside the set time limit. Then it was onto the 'Highest BMX Jump,' where we had to rotate the Wii Remote and Nunchuck rapidly like hand-pedals to gain momentum up the half-pipe ramps before launching into the air at the appropriate time by thrusting both controllers above our head.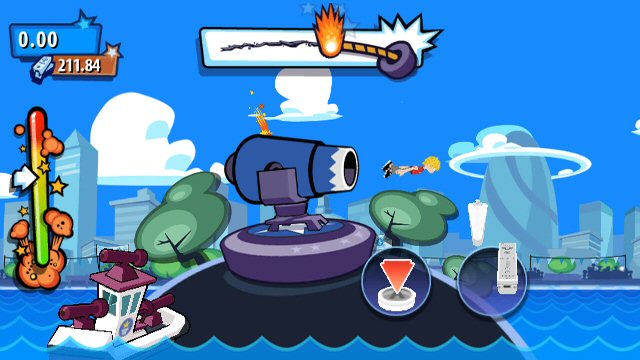 With 40 different stunts on offer, based on real Guinness World Records, there's a diverse and often bizarre collection of records to break, ranging from 'Eating 10 cockroaches in the quickest time' to achieving the 'Longest Burp.' The majority require different movements, sometimes using the Wii-remote on its own, such as when you need to trace along a line in the 'Longest Fingernail' challenge or when you're shearing a sheep, whereas others require you to use both controllers, such as when you use the Wii Remote to pick up cockroaches and then have to shake the Nunchuck up and down to simulate chewing. There's certainly enough enough entertainment and diversity to warrant its £24.99 price tag (cheaper if you shop around.)

Aside form gaining certificates and the obvious challenge of of beating family and friends and trying to surpass your own personal best, the real incentive to keep playing the quick-fire challenges is certainly the lure of having your name in The Guinness Book of Records Gamer's Edition. But, even without that, The Guinness Book of Records: The Videogameis an accessible and enjoyable set of quick-fire games that deserves to be included in the list of better mini-game compilations on Wii.

Pros
Incentive of getting in the Guinness Book of Records
Nice variety of games
Offers good multiplayer challenge

Cons
No point in having customisation in a mini-game compilation
Lacks any challenge
It's just about making noise


The added incentive of attempting to beat a real world record is an addictive lure. The Guinness Book of Records: The Videogame offers an enjoyable set of mini-games that makes the most out of the Wii controllers. (7/10)


HEXUS Right2Reply
HEXUS World Leading HEXUS Right2Reply initiative invites manufacturers, their representatives and vendors which supply HEXUS with products for technical editorial evaluation, to comment on the articles that we publish. If they choose to respond, we publish their response verbatim.