Hook up with other PlayStation gamers
NEAR
NEAR tracks location via GPS and tells you which gamers are near to your location and what they're playing. It's absolutely useless if you happen to live in the middle of nowhere, of course, but if you're located close to a city it should reap some positive benefits.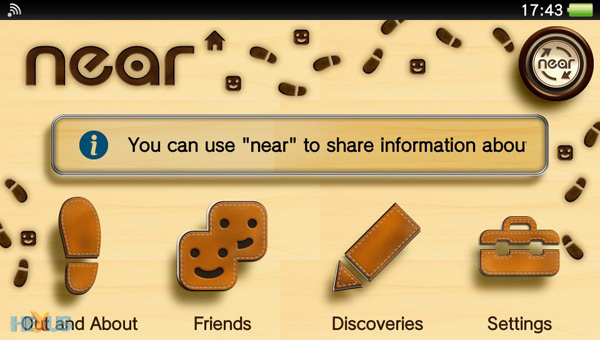 The idea is to get connected with more people, and it has an uncluttered, simple interface that tracks every movement and game-playing action for others to see. I can then interact with people, share items and receive and send game invites. It's also another clever Sony tool for cross-selling; it directs the player to the PlayStation Store should they be interested in a game that someone else is playing.
Most of the Vita's games will be compatible with NEAR. In Uncharted: Golden Abyss, for instance, collectibles can be traded via the NEAR-enabled Black Market with other adventurers. Game demos can also be sent to local people for them to try any new title you have.
Friends
The friend's hub is, quite simply, a friends list, which includes those mates gathered on PS3, as long as the same PSN account is used on the Vita. It's pretty cool when I tap on the chat icon and switch to the Group messaging app, where I can text in real-time. Click the small camera icon, snap a photo, and send it immediately to a friend. Nice
It seems an oversight by Sony that one can't also set up a Party from within the Friends app, instead having to quit out and open the party application. The transition could have been a little smoother, but, overall, the Friends list is well-laid-out, colourful and a pleasant way to compare stats with other players.
Browser
Rarely do I use the PS3 browser for surfing the net, mainly because it's so awkward to navigate, but Vita's browser is certainly more appealing thanks to the added functionality that the touchscreen brings.
It offers a handful of features, including web security, history and the ability to create folders to bookmark sites, while the keyboard makes it easy to search the web. The first website I tried to access was YouTube, only to discover that Vita doesn't support Adobe Flash, which rules out watching some online videos. I understand Sony is still considering bringing Flash to its new handheld, but certainly don't expect to see it at launch.
It's also a bit disappointing that I can't switch between a game and the browser without quitting the game entirely and re-loading the Internet page. In truth, it's likely I'll only use the browser if I was desperate for a piece of information and didn't have my smartphone handy; although the online Vita guide, which is optimised for the device with swipeable pages, is really well-laid-out and full of useful information that everyone will probably need at some point.
PS3 connectivity and Content Manager
The latest firmware update ensures that the PS3 recognises Vita instantly, so it's simply a matter of scanning for a new device on your console. The PS3 picks up the Vita signal wirelessly and then provides a code that is inputted into the Remote Play settings on the handheld. It's a simple and effective process that takes no more than a couple of minutes.
Connect the Vita via USB to the PS3 and it can back-up and transfer data to and from the PS3 via the Content Manager app. Once again, it's very easy to use, though large files can take quite a while to transfer. With the fairly small size of Vita's memory card, it's likely I'll be transferring content quite regularly.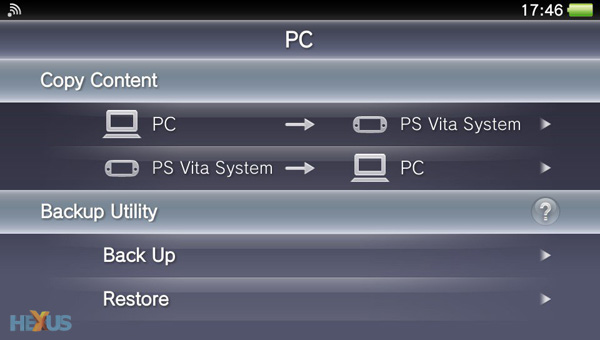 You can also back-up and transfer content between Vita and PC, though an additional piece of software needs to be downloaded on to the PC first. The transition of music, photos and video from the PC to the Vita is smooth, but, once again, it's worth checking a compatibility list as it restricts the playing of certain files, such as AVIs.
Remote Play
Remote Play has performed quite erratically since I've had the Vita unit. Sometimes I've been able to turn on the PS3 remotely and navigate the XMB smoothly and other times I've had an error message and not been able to connect at all. Hmm.
Most of the games I've tried, including Uncharted 3, Killzone 3 and Battlefield 3, aren't currently supported by Remote Play, so it would be nice to see a list of what games are actually compatible. In fact, the only games that I have been able to stream are PixelJunk Shooter and Bejeweled 2.
Nonetheless, I am assured that users will be able to stream all PS3 games at some point during PS Vita's life-cycle, it's just a shame that it won't be at launch.