The apps
Let's boot up this bad boy
Initially, it feels quite strange navigating a touchscreen on a device designed specifically for gaming. Our lives are run by our smartphones and iPads, and as a result it's natural to assume that Vita's interface should offer much more than it does, including some of the features and social connectivity options that I take for granted on Android and iOS systems.
Consequently, if you're a Facebook fanatic or YouTube junkie, you'll probably be a little disappointed at Vita's lack of extra features on launch, though Sony promises more are coming. Indeed, I hear that social apps - FourSquare, LiveTweet and Flickr - will be available for download very shortly. At launch, the chunk of social connectivity options relate to interacting with other PlayStation gamers, a firm signal that Vita is indeed designed specifically for gaming.
Android-inspired interface
Vita's interface is a far cry from the XMB of the PS3, with bright colours and floating circular icons representing the multitude of options available. The homescreen is totally customisable and, just like Android and iOS systems, you can hold a digit down on any icon and choose to delete it, or move it around. Prod icons to open them up, swipe down to access new pages and more features, and it's easy to move swiftly move between applications with no performance issues.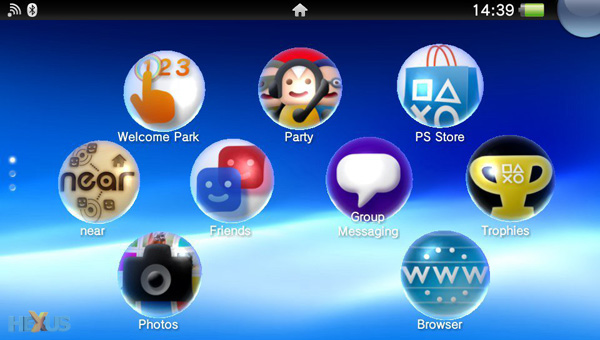 After opening an application, swipe to the right of the screen to access all frequently viewed applications, saving a bit of time. Across the top of the screen is the 3G symbol (providing you bought the 3G, Wi-Fi model) and Wi-Fi signal bar that lets you know whether the Vita is connected, as well as the Bluetooth icon, which is turned on by default.
The battery icon sits on the right-hand side alongside the clock, and in the right-hand corner there's a notification icon, represented as a half-circle. If you get a message or a friend request, a number pops up in this space and you can tap on it to retrieve it. It's a handy little feature which saves digging around in other applications.
Welcome Park
The first application that most PS Vita owners will undoubtedly dive into is Welcome Park, which introduces the eager purchaser in a fun way to the new features of Vita. Through a series of mini-games one get introduced to the touchscreen controls and tilting, as well as the rear and camera-inspired gameplay, which involves taking pictures of everyday objects that can then be brought to life with eyes and a mouth.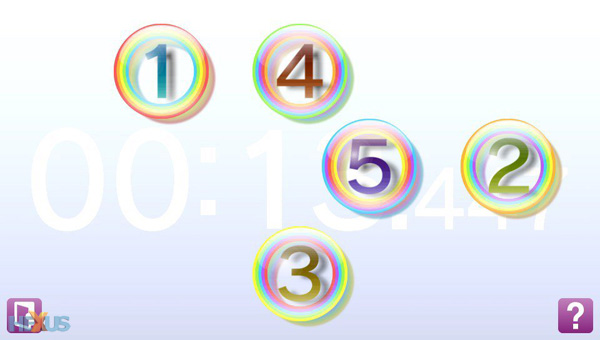 Welcome Park is a great showcase for Vita's gaming potential with my personal highlight being Digit Chase, which superbly showcases the multi-touch and rear-touch functionality of Vita and tests out reflexes as you tap away to complete numbered sequences. Though it's unlikely one will play with Welcome Park's offerings more than a couple of times, it's a nice introduction to Vita and certainly excited me - the sad man that I am - by its potential.
Party
Vita boasts a number of applications aimed at getting you chatting with other PlayStation gamers. Party is essentially a group-chat application that works when connected to the PlayStation Network, allowing you to text and voice chat with up to eight friends.
The lack of video-chat support is a little disappointing, but the keyboard that pops up on screen is responsive, easy to use and has a decent integrated predictive text feature. The ability to use touchscreen input, rather than fumbling along with the controller, like on PS3, makes it feel instantly familiar - as if you're interacting with your smartphone.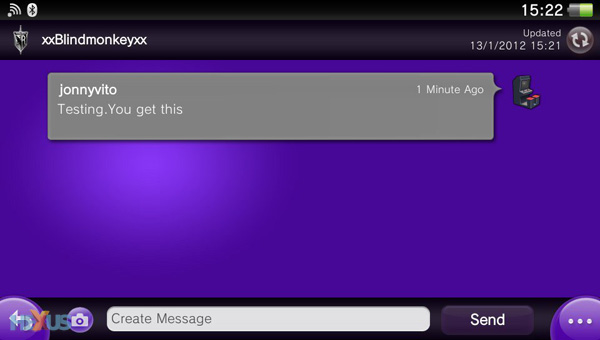 Within Party you can send out game invites or get invited to join games, and if you don't own a particular game someone is playing you get a handy link directly to the PlayStation Store where you can read more about it and download it if you wish. Interacting with your buddies on PS3 leaves a lot to be desired, I feel, so it's good to see a Party feature that works extremely well and allows the user to connect and interact with people instantly.
PlayStation Store
The PlayStation Store has been optimised for the touchscreen, so it's far smoother to navigate than it is on PS3. The beauty of having instant access to the store is that any game can be downloaded on to Vita; physical copies aren't mandatory. Numerous films can also be downloaded, including Super 8, Cowboys & Aliens and Abduction. Games should be a little bit cheaper on the store, too, as you're not paying the extra for packaging and distribution costs.