What is it about?
With the famous French military general, Napoleon Bonepart as your leader, you fight for territory across land and sea in famous battles, including Waterloo, Trafalgar and Austerlitz.

Review
In many ways, the latest game in Creative Assembly's strategy-heavy Total War series is typical to many of the past games in the franchise, with gameplay features such as diplomacy, trade, production and research making an appearance once again and having just as much bearing on your success as the battles themselves.

As those familiar with the series would expect, Napoloeon: Total War once again handles all of these gameplay features impeccably with an accessible interface making navigation simple and excellent tutorials giving you the chance to get to grips with the basics. And inevitably there's something intensely moreish and addictive about moving between menus and the open-world locations, recruiting Admirals and Generals and building your team ready for war, while juggling numerous actions such as improving diplomatic relations with neighbouring terrotories, or keeping your people happy.

There's plenty of content to dive into too, with four story-driven campaigns that come complete with some quality cut-scenes scenes that give real meaning to the mayhem. Napoleon's campaigns are a real highlight taking you through his early career which is split into real-life, mini-campaigns such as taking Northern Italy back from the Austrians -- it's a real treat for history boffins.

Gameplay is typical of the Total War series -- in-depth, demanding and challenging -- a real balancing act that sees your mind being pulled from pillar to post as you carry out an enjoyable variety of tasks. It's the battles though where Total War: Napoloeon really shines, and some finely detailed character models and an impressive graphical facelift brings the intensity of war right home. The battles are challenging, visually impressive and can be very intense, and that blend of turn-based and real-time play makes for some enjoyable and exciting moments. The easy to navigate interface, plus the excellent 3D map also makes it as effortless as possible to organise your units. Despite being hampered by the occasional AI path-finding problem, the land battles are a lot of fun.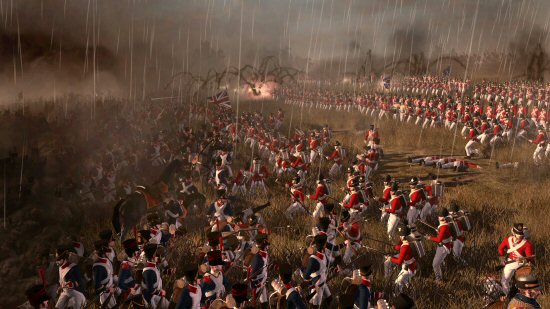 Naval battles seem to be much tougher and I've found myself overwhelmed when faced with more than four enemies at a time, especially against Galleons. But once again there are some tense and exciting battles that are made even more nerve-racking by a new repair feature, which sees your crew frantically trying to mend your ship from damage and trying to stay afloat while you fight back.

With a number of noteworthy features on the battlefield, including environmental challenges such as rain and the option to repair ships, there's more depth to the tactical side of Napoleon: Total War than previous games -- so in some ways you could say it does offer a number of improvements over some of its predecessors, not least graphically. Nevertheless, the feeling of déjà will soon kick in if you've ever played any game in the series before.

The Total War series is one of the finest strategy games out there and the intense battles and in-depth balancing act here ensures that this latest addition does justice to its legacy, even if doesn't exactly blow your socks off with innovation. The drop-in multiplayer feature, allowing a user to join you in your campaign, works seamlessly and with over 40 faction to choose from in the multiplayer mode, there's a great deal of replay value to be had and enjoyment to be gained from this finely-tuned mix of action and strategy.