Does the popular Top Trumps card-game make for an exciting video game?
To make the game more interesting you're given ability cards which you choose prior to each round of Top Trumps. These cards include the 'Energizer', which when used boosts the points on some of your attributes; a 'Scanner' card, which allows you to see one of the categories from your opponent's card, and the 'Transporter', which allows you to swap your current card for the next one in the pack. Although you can only pick three ability cards before each game, there's a wide variety of interesting cards to choose from prior to starting the match and as you progress through the game you unlock better ability cards.

Your opponent also uses them effectively throughout the rounds which can make for some tough battles for domination.Overall, the ability cards add a welcome extra dimension to the tactical play of a standard game of Top Trumps.

During each game, an energy bar runs down the right hand side of the screen and increases when you win cards from your opponent and rack up combos. Once the energy bar reaches the top, you can use one of your ability cards.

At the end of each game there's a bonus round, where you might have to memorize a category out of the three cards and then guess which one is the highest after they're turned over and mixed around, or choose whether you think a random card might have a lower or higher category then the next. Essentially, they're mini-games that can be accessed seperately from the main menu and after a while they can be quite dull, but they do serve a purpose. If you win the bonus rounds you get steal a card or two from you opponent from the next round.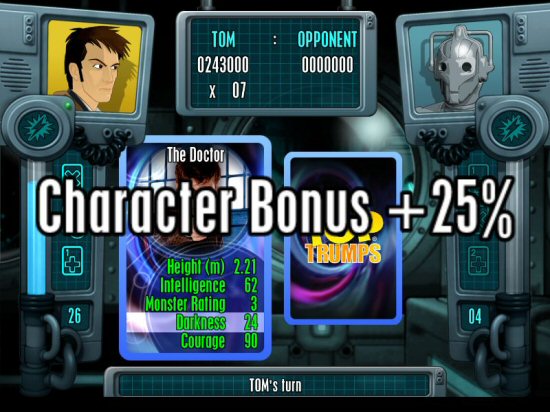 As I mentioned in the intro, there's one thing that you can't replicate when you play Top Trumps as a video game; and that's the social interaction and the intelligence of people. The AI does a good job mostly at choosing the right categories and determining when to play its ability cards, but occasionally it makes some awful decisions that just wouldn't happen if you playing with a friend. Why would you choose the 'monster rating' category when its numerical value is the lowest that you can possibly get? With that in mind, I'd say that the most fun to be had would be through the game's local multiplayer mode where the game's will no doubt be far more challenging.

Nevertheless, if you're a fan of Top Trumps it's all here, plus a few new ideas thrown into the mix. Dr Who Top Trumps is just as addictive as playing for real, although just like playing it in real life you'll probably have had enough after a few games.

Fair play to Eidos though, they've achieved the near-impossible and made Top Trumps into a refreshingly different video game. It's certainly addictive enough to keep you coming back for more.

Pros
It's Top Trumps
Ability cards add extra dimension
Can't see how they could have done much better

Cons
Only local multiplayer
Some bad decisions from the AI

Surprisingly refreshing and addictive.


HEXUS Awards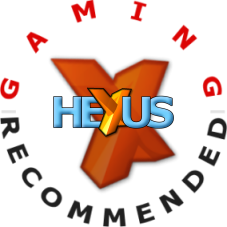 Dr Who Top Trumps- Nintendo DS (7/10)
HEXUS Right2Reply
HEXUS World Leading HEXUS Right2Reply initiative invites manufacturers, their representatives and vendors which supply HEXUS with products for technical editorial evaluation, to comment on the articles that we publish. If they choose to respond, we publish their response verbatim.