Sexiest cartoon character since Jessica Rabbit...


With the myriad of action games currently available in the shops and the promise of some stunning titles, such as Crysis and Supreme Commander landing on our doorsteps later this year, it's easy to walk past any title in the your local game's store that doesn't jump off the shelves or hasn't been hyped to an unprecedented level. Ascaron's, Runaway 2: The Dream of The Turtle is one such game that you may miss unless you happen to stumble across it online or read the online preview and reviews.The hay day of point and click adventures was back in the 90's with the likes of the Discworld series, Myst and the wonderful Broken Sword adventures, but these days it takes more than a few challenging puzzles to reel us into the slow-paced gameplay and encourage us to take a punt on the genre. We've always been huge fans of point and click games and whenever we hear that a new game is about to be released, you can be rest assured that we're on the phone to the publisher to grab a copy and let you guys know all about it.

Most recently, The Secret Files of Tunguska has stood out in the genre due its compelling storyline, sharp animations and great user interface but, as technology advances, many other developers are continuing to develop this type of game in order to push the genre forward.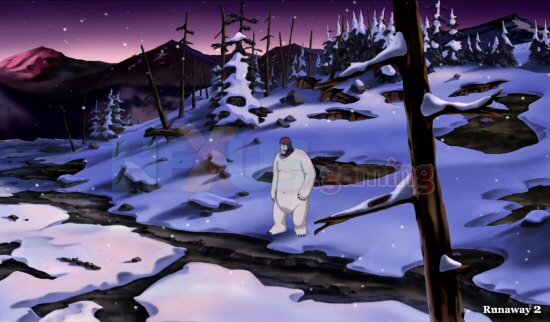 Click for larger image



Firstly, if you're reading this from the UK, you're probably wondering what happened to the first game in the series. Runaway : A Road Adventure wasn't actually released on our shores, but it did receive rave reviews for its wacky sense of humour, easy interface and thought provoking puzzles, selling over 600,000 units across Europe and acquiring a semi cult-like status.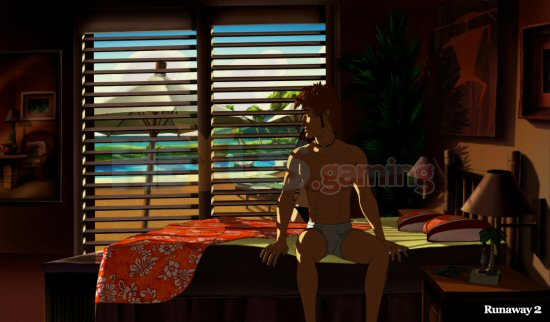 Click for larger image



Runaway 2 is typical of any point and click adventure in the fact that there is a wealth of exploration, puzzle-solving, interaction with game characters, and a focus on narrative rather than reflex-based challenges; but what makes Runaway 2 stand out from the crowd is its modern design and wacky sense of humour (with many references to movies, comics and video games). The 2D comic book style, impeccably designed background, 3D character models and animations give the game a modern feel, and with advancing technology, we no longer have to sit through dozens of loading screens as we move from one area to the next; the result is a flowing adventure that has a cinematic feel to it.