The Humble Bundle team have put together another one of their popular value-laden PC gaming bundles. This time they focus on Sega's most famous mascot, Sonic the Hedgehog, as it is the spiny mammal's 25th anniversary.

The Humble Sonic 25th Anniversary Bundle is available now and as usual it is being sold in a number of tiers. For the entry fee of just $1 (£0.70) or more buyers can secure Sonic the Hedgehog, Sonic Adventure DX, Sonic 3D Blast, Sonic CD, a sampler of Sonic comics from Archie Comics, and a coupon for 10 per cent off Humble Monthly coupon (for new subscribers).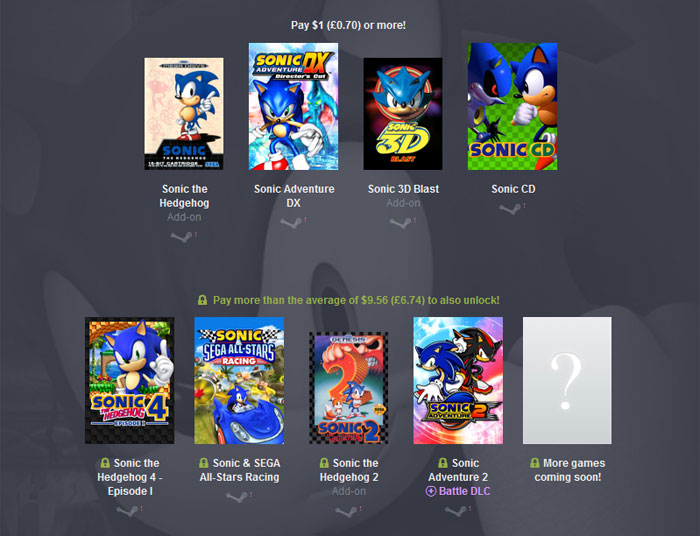 At the time of writing the bundle has been live about 16 hours and the average price paid by punters is $9.56 (£6.74). If you buy the bundle and beat that price you can qualify for a whole host of extra Sonic games which include; Sonic the Hedgehog 4 - Episode 1, Sonic & SEGA All-Stars Racing, Sonic the Hedgehog 2, and Sonic Adventure 2 + Battle DLC. With this tier you will also enjoy a few other games 'coming soon' to make the mid-tier option even more attractive.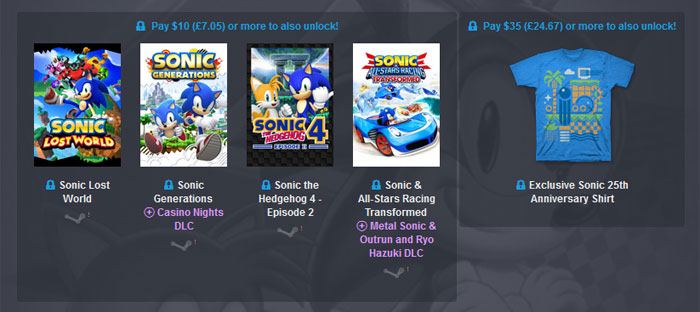 The slightly more expensive $10 (£7.05) tier unlocks Sonic Lost World, Sonic Generations + Casino DLC, Sonic the Hedgehog 4 - Episode 2, and Sonic All Stars Racing Transformed + DLC. It is the top games tier, however for those who really love their hedgehogs, and Sonic in particular, there is an option to cough up $35 (£24.67) or more to add an exclusive Sonic 25th Anniversary shirt from Fangamer.
As usual, what you pay can be divided up according to your own preferences between charities, developers and the Humble Bundle team. The charities supported this time around are Child's Play, SpecialEffect, U.S. Fund for Unicef, and the World Wildlife Foundation via the Paypal Giving Fund. So far over 22,500 people have bought this new bundle.
Limbo free on Steam
While we are talking PC gaming bargains – what's a better bargain than free? That's the current price of Limbo, a well regarded creepy looking puzzle platformer from developers PlayDead.
This freebie is intended to draw attention to PlayDead's next game, Inside, which was showcased at E3 and will be released in the not too distant future. If you are interested in this Limbo freebie please go and grab it now, as the free promo finishes at 6pm UK time tonight (10am Pacific time).