The release of Just Cause 3 is exactly a week away (Tuesday 1st December) and we have only just been officially told the minimum and recommended PC specifications by Avalanche. As is increasingly the case, a 64-bit OS is in the minimum requirements – as is 6GB of RAM, which wouldn't be of much utility under a 32-bit OS…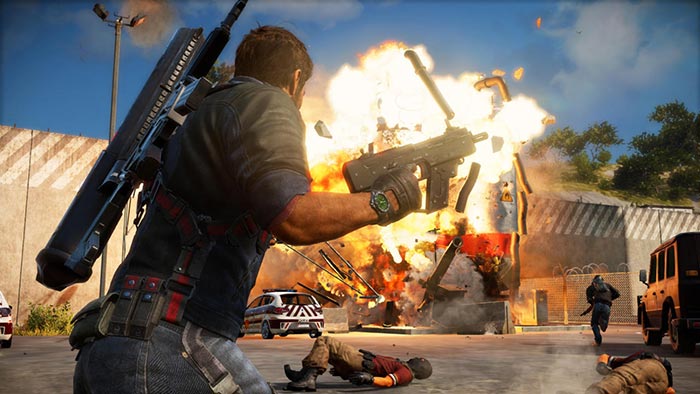 The minimum specs your PC should boast to enjoy Just Cause 3 on your PC include a 3.3GHz Intel Core i5-2500K, or 3GHz AMD Phenom II X6 1075T with 6GB of RAM. You should also have at least an Nvidia GeForce GTX 670 or AMD Radeon HD 7870 – with 2GB of GDDR5 RAM or more.
To enjoy the game more fully Avalanche recommends a 3.4GHz Intel Core i7-3770, or 4.0GHz AMD FX-8350 processor plus 8GB of RAM. Recommended level graphics cards include the Nvidia GeForce GTX 780 (3GB) or AMD R9 290 (4GB).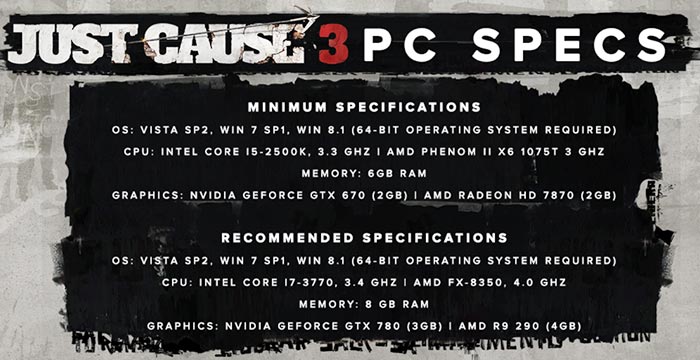 In case you are wondering why Avalanche recommends the above computing power for enjoyment of its latest Just Cause title the developers published a 'dev diary' yesterday discussing the 3D graphics engine used by the game. Just Cause 3 is one of the 'early adopters' of Havoc Destruction and the developers say that in the current Avalanche Engine "everything is procedural".
As mentioned in the intro, Just Cause 3 comes out at the beginning of December. As well as the PC version, PS4 gamers will get JC3 which will run at 1080p on their consoles. The Xbox One version will run at 900p. If you feel the need to upgrade your PC, Intel is currently running a promotion, bundling Just Cause 3 with select Core i7 processors.