Electronic Arts has made the original Dead Space game free via its Origin online digital platform. This was the first of a series of three Dead Space sci-fi horror games developed by Visceral and was launched in 2008. EA says this is the first special offer from a newly set up On the house promotion which offers "Full PC Games, On the House" for a limited amount of time. Dead Space will be free via Origin until 8th May 2014.

Dead Space is an action shooter which was popular enough to spark a series of three games. The game is set in space on a huge mining vessel called the USG Ishimura. The hero you play in the game boards the ship, which had lost all communications, to find the crew mutilated, infected and reanimated by an alien virus. You must fight your way through these 'space zombies' to solve puzzles and repair the ship to return the alien cause of the outbreak back from whence it came.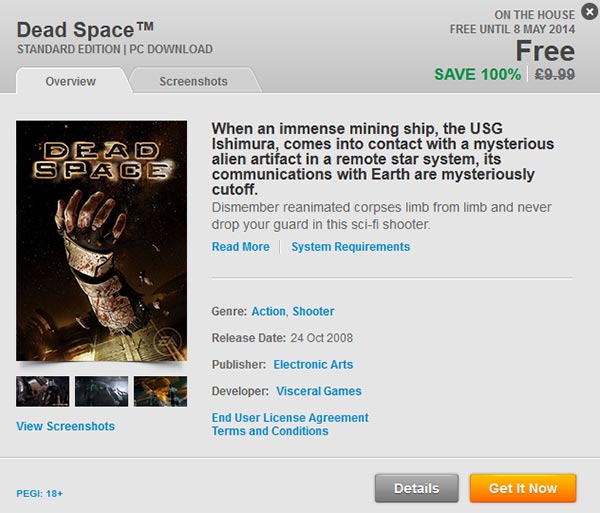 As you can see from the offer screenshot the game previously retailed online via Origin for £9.99, a 100 per cent discount brings that to exactly £0.00. On its 'On the house' promotion homepage EA sets out the reasons for its generosity; "We're gamers, too. We appreciate you making Origin your gaming home ... and besides, who doesn't like free stuff? " The firm confirms that this is definitely not a demo and once you've claimed any 'On the house' game it's yours to keep. Gamers are encouraged to "download now, and check back soon for something new," however this Dead Space game is going to be available until 8th May, so there may well be no point checking back before that date has been and gone.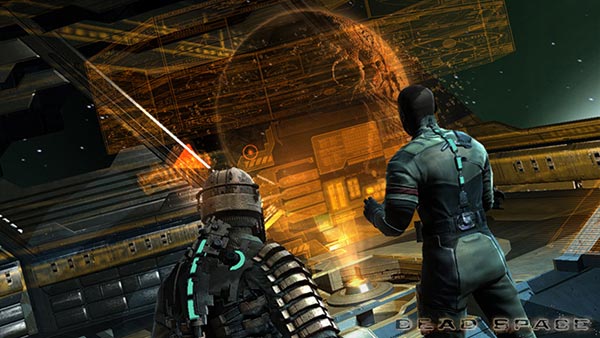 If you fancy this free game and don't mind installing Origin on your PC system, it's definitely an attractive and generous offer from EA. The download weighs in at around 7GB.