It's length...I mean speed that matters.
The latest addition to Razer's gaming peripheral range is the new Razer Salmosa gaming mouse, which has made its debut at CeBIT today.

We'll have an exclusive HEXUS.tv interview with Razer President, Robert "Razerguy" Krakoff, later in the week, but I stopped by the booth briefly to take a look at the prototype and find out what makes it stand out from all of the other entry level gaming mice on the market.

The Razer Salmosa will hit stores in July or August and will retail at approximately 29.99 Euros. The prototype I saw was a weighty model, but Krakoff told me that it once the model is complete it will be one of the lightest and most compact mice of its class.

The Razer Salmosa is being billed as an entry level gaming-grade mouse, the first of its kind from the company, but Krakoff still believes it will offer the best value for money for this grade of mouse.

Though the Salmosa boasts a 1800 dpi rating, Krakoff said that 'dpi means nothing anymore, it's all about the inches' and told us that the Salmosa features a 60-120 inches per second tracking speed.

Speed is an important factor for Razer and the Razer 3G infrared sensor enables speeds of up to 2.25 faster than other regular gaming mice.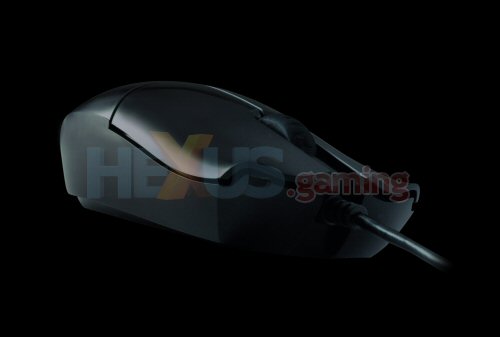 Once again, one thing that we can expect from a Razer mouse is a smooth ergonomic design and the Salmosa moulds perfectly around your palm.

Features

• 1800dpi Razer Precision 3G infrared sensor
• 1000Hz Ultrapolling / 1ms response time
• Mechanical dpi/polling rate switches
• On-The-Fly Sensitivity adjustment
• Always-On mode
• Ultra-large non-slip buttons
• 16-bit ultra-wide data path
• 60-120 inches per second
• Three independently programmable Hyperesponse buttons
• Ambidextrous design
• Scroll wheel with 24 individual click positions
• Zero-acoustic Ultraslick Teflon feet
• Seven-foot, lightweight, non-tangle cord
• Approximate size: 115mm (length) x 63mm (width) x 37mm (height)

"The Razer Salmosa sets a precedent as being the lightest mouse in its class; it is perfect for gamers that require pure speed and agility. Our goal was to create an affordable, introductory gaming-grade mouse. With the Razer Salmosa, we have created a mouse that is ideal for gamers who have yet to experience the difference a gaming-grade mouse from Razer can offer to their game," said Krakoff.

For the price, the Salmosa looks as though it will be a certain hit on its release later this year.

Stay tuned to CeBIT coverage for the HEXUS.tv interview with the charismatic Robert "Razerguy" Krakoff.