Just ahead of the weekend Square Enix, Eidos - Montréal, and Crystal Dynamics officially revealed Shadow of the Tomb Raider. Gamers got a first look at the title in action via the official 'The End of the Beginning' reveal trailer, which is embedded directly below.
This is the third Tomb Raider since the successful reboot in 2013, and comes in the wake of Rise of the Tomb Raider, released in 2015. In the new Shadow of the Tomb Raider, Lara races though the jungle to save the world from a Mayan apocalypse, and will be forged into the Tomb Raider she is destined to be. This time around getting to the tombs, and exploring the tombs, will be a darker more dangerous experience than ever before.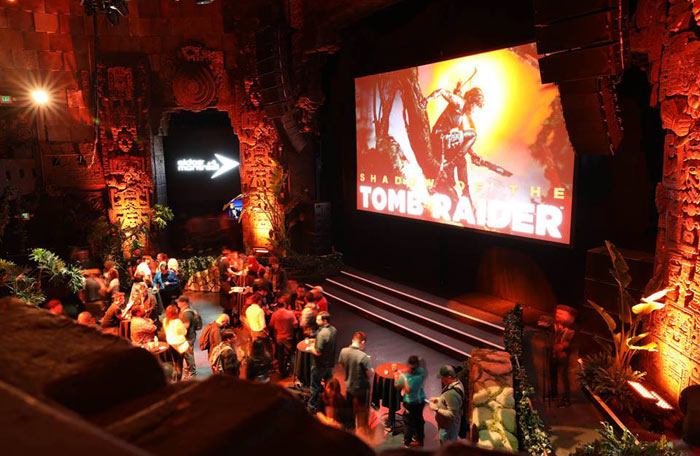 At the special unveiling event everyone looks at their smartphones instead
A separate press release talks about Nvidia's contribution in bringing the latest Tomb Raider to PCs. "Nvidia will lend its gaming and PC development expertise to help bring the PC platform's advanced gaming features to Shadow of the Tomb Raider," says the release, published by Gamasutra. "This effort will help maximize the performance benefits of the Nvidia GeForce GTX 10-series GPUs for PC gamers across the world."
Nvidia also published its own blog post about the release, in which it claims the GeForce powered Shadow of the Tomb Raider PC gaming experience will be "the definitive PC version for the Tomb Raider series," thanks to GeForce technologies, GeForce Experience features, and Game Ready Drivers.
If you like the look of this game, it will be coming to the Xbox One family of devices including Xbox One X, PlayStation 4 computer entertainment system and Windows PC/Steam. Pre-orders are available now for the Standard, Digital Deluxe, Croft, and Ultimate Editions. There will be a Season Pass – more info to come on that. Shadow of the Tomb Raider is scheduled for release on 14th September.