The Humble Bundlers have put together another new compelling selection of PC games at a great price. This time it has collaborated with a trio of Japanese games developers and managed to create a collection featuring up to 12 signature titles. The new bundle is called the Humble Capcom X Sega X Atlus Bundle.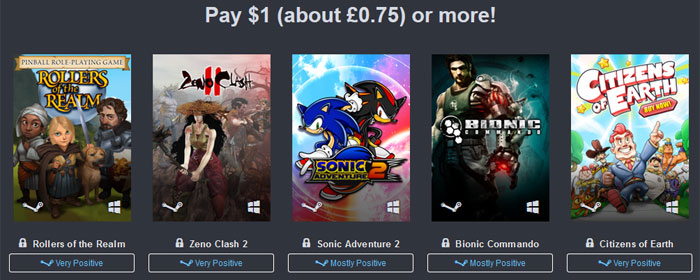 The entry level fee to harvest a crop of these Steam games is $1 (75p) and for this modest outlay you can snag; Rollers of the Realm, Zeno Clash 2, Sonic Adventure 2, Bionic Commando, and Citizens of the Earth. That's a diverse set of titles varying from a role playing pinball game, through classic console style action, to a first person brawler.
If you can beat the average price paid, currently $6.66 (about £5.02), you can add unlocks for Renegade Ops, Sonic Generations Collection, Resident Evil 4, Dead Rising, and Tesla Effect: A Tex Murphy Adventure.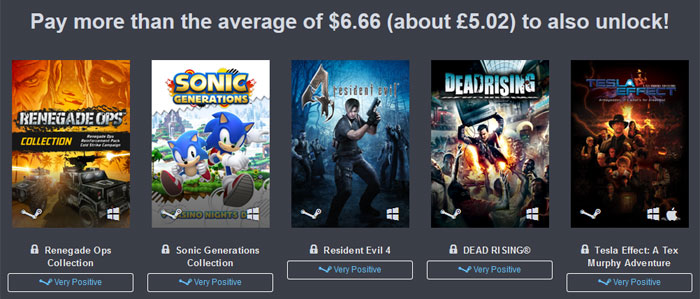 Whether you will be willing to stump up $12 for the top tier depends upon your attraction to the duo of Motorsport Manager and Devil May Cry 4: Special Edition. Like all the mid-tier games this two have 'very positive' Steam reviews. For an almost doubling in bundle price its worth further research if you are considering this top tier. The Humble Bundlers claim that the games featured would usually cost $216 if bought separately.
Last but not least there are various bonuses to be had by Bundle buyers such as big discounts off other select Capcom, SEGA, and ATLUS games, 66 per cent off The Deadly Tower of Monsters, and 50 per cent off Dawn of War III and / or Street Fighter V.
As usual buyers can divide their payment into contributions to the publishers, a Humble Tip, and various charities. There are just over 13 days left to partake in the Humble Capcom X Sega X Atlus Bundle, if you are interested.