Nvidia is at Gamescom 2017 and has made multiple announcements concerning its software technologies and partnerships with firms like Activision and Bungie (Destiny 2), and Square Enix (Final Fantasy XV Windows Edition).
In summary, it has helped Bungie with HDR and SLI compatibility in Destiny 2. It has re-started the bundling of Destiny 2 with the GeForce GTX 1080 and 1080 Ti graphics cards, systems and laptops. In addition, there's a new Destiny 2 Beta Game Ready driver coming very shortly. Turning to the Square Enix collaboration, Nvidia is leveraging a "slew Of GameWorks Technologies," in this upcoming game and has released a 4K PC trailer for it, ahead of its expected early 2018 launch.
Destiny 2
The Destiny 2 Beta Game Ready driver will begin distribution via the GeForce Experience starting from 24th August. The early access PC beta of the game starts on 28th August, so that's plenty of time for you to update and pre-download the software.
Nvidia has worked with the Destiny 2 developers to include HDR and SLI technologies in the game. It already supports such niceties as native 4K, 4K DSR, uncapped framerates, and field of view modifications. An Nvidia GeForce GTX 1060 is recommended for those wishing to indulge in Destiny 2 at 1080p, while 4K setups can achieve a steady 60fps in the game when using a GTX 1080 Ti graphics card.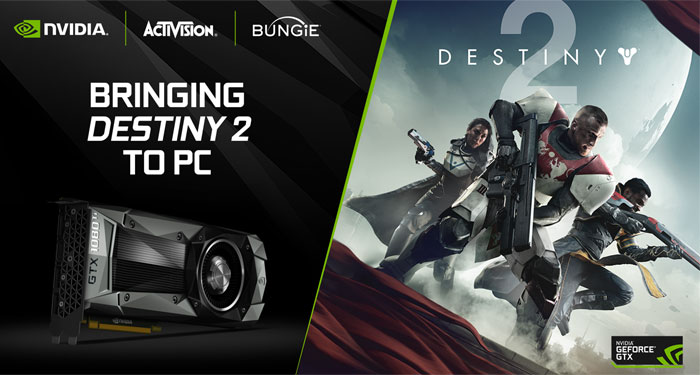 In time with the above announcements Nvidia has re-started its GeForce GTX Destiny 2 bundle. From now until 5th Sept, GeForce GTX 1080 and 1080 Ti graphics cards, systems and laptops bought from qualifying dealers will get a free copy of the game when it launches.
Final Fantasy XV Windows Edition
Final Fantasy XV debuted on console last November. At Gamescom yesterday the Final Fantasy XV Windows Edition was announced. This will of course be the "highest-end edition," of the game with superlative real-time effects leveraging Nvidia Gameworks.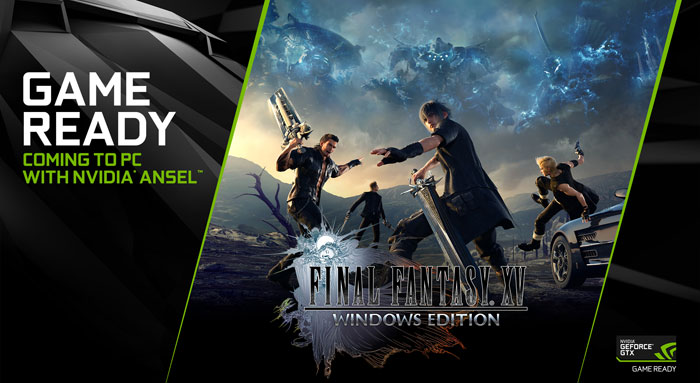 Nvidia has really pushed the boat out with this one and the following long list of proprietary enhancements will be added to the game; the Nvidia Flow real-time fluid, fire and smoke simulator, Nvidia HairWorks, Nvidia Hybrid Frustum Traced Shadows, Nvidia Turf Effects, and Nvidia Voxel Ambient Occlusion. All these are worked into the Square Enix Luminous Engine, "resulting in the creation of the most beautiful open-world game ever made," says Nvidia.
As well as the above in-game effects Nvidia has worked with Square Enix to include Shadow Play Highlights compatibility and Nvidia Ansel screenshot composition. Have a look at the 'Ultimate Quality & Beyond' trailer above, which is viewable in up to 4K resolutions.