The latest episode of Call of Duty, the ninth in the franchise, launches tomorrow. Avid gamers can even buy the game at midnight tonight if they feel the need. The new game is called Call of Duty: Black Ops 2 and is based not in some historic theatre of war but in the not-too-distant year of 2025. Initially the game will be available on Xbox 360, PlayStation 3 and PC platforms. On Nintendo Wii U launch day the game will be available for that console too.
By 2025 a cold war between the US and China had been festering for a number of years over rare earth mineral deposits. The US built an army of robotic drones to protect the homeland and its interests but they were taken over by an activist who intended to incite total war between the two superpowers. The son of the Black Ops protagonist, David Mason, is the new game's main character. You will battle it out just like in previous Call of Duty games but are now pitted against many robotic and futuristic weapon equipped enemies.
New gameplay aspects to Call of Duty: Black Ops 2 include the Strike Force missions in which players carry out objectives switching between soldiers and vehicles. Depending on your Strike Force mission success the game plot outcome may change. In multiplayer mode there is a new create a class system to arm your soldier. A certain number of points are allowed to be used in the arming selection; different armaments have different weightings via their points allocation. The Zombie mode in the Call of Duty: Black Ops 2 game has something called Tranzit which lets you equip a battle bus to fend off zombies with.
Drivers
NVIDIA has already made available a driver set which it calls "an essential upgrade for all Call of Duty: Black Ops 2 & Assassin's Creed III Players". These are the GeForce 310.54 Beta Drivers. The drivers are enhanced for these two new games including "a new and improved version of TXAA anti-aliasing". Also there are some image quality improvements for GeForce GTX users thanks to "Sparse Grid Supersampling". Looking at performance improvements the new beta driver offers "improved performance by up to 26% in twenty games". Call of Duty: Black Ops 2 is the game which offers this headline improvement!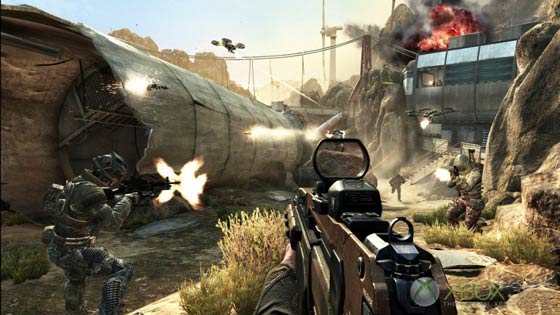 AMD will also shortly release updated drivers to improve the Radeon family's performance in Call of Duty: Black Ops 2. At the time of writing they weren't available for download.
Buying the game
By far the hottest deal to buy this new game, according to the readers of HotUKDeals, is from the supermarket Tesco. For the console version you will be able to buy the game for the equivalent of £25 using Xbox Live Points or PlayStation Network credit. If you have other Tesco vouchers you may be able to use them too. For PC I can't find any better deal than £34.99 at Sainsbury's.