Though now removed at the request of law firm, Covington & Burling LLP, a 56-page document found its way onto Scribd, dated August 2010, detailing Microsoft Xbox plans ranging from the Xbox 720 in 2013 all the way to 2015 and project Fortaleza, an Augmented Reality glasses project.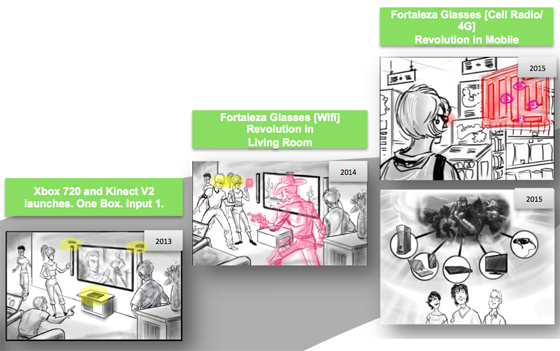 Following up on information from those who caught the document before its removal, the Xbox 720 is expected to launch with a $299 price tag, coming bundled with a Kinect 2 which will feature improved camera and microphone quality, with support for stereo imaging and an extended range-of-motion for both improved near and far distance play.
Though, with the document dated towards the end of 2010, any details are likely to be preliminary, a spec sheet for the Xbox 720 was included, which suggested that Microsoft is looking to create a console based around either ARM or Intel x86 technology, featuring six to eight cores clocked at around 2GHz, 4GB of DDR4 RAM and a 64 ALU GPU. It goes on to suggest that Microsoft is considering an "Always On" mode which will keep only one or two cores active and utilise a reduced GPU ALU count.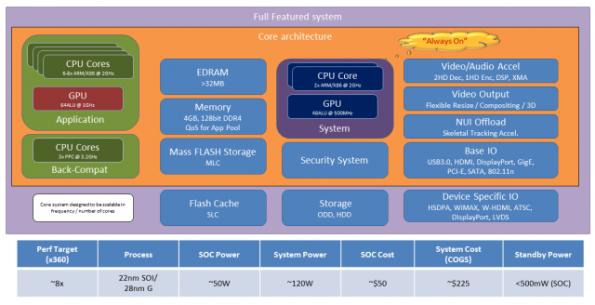 Other notable specs involve a chip for offloading Kinect processing, USB 3.0, Wireless-N, Blu-ray and of course HDMI. What's intriguing is that it appears, much like Sony's original PlayStation 3 models, that the 720 may feature a Xenon processor for backwards compatibility with the 360. There's also mention of various WiFi standards outside of the core spec, such as HSDPA, WiMAX and even Wireless-HDMI, suggesting that some rather interesting peripherals and usage scenarios could be in-store.
From a software perspective, depending on whether the firm goes x86 or ARM, the Xbox 720 will likely include a subset of Windows 8 or Windows RT, with a locked Metro dashboard with support for HTML 5. It's suggested a big expansion into living-room and lifestyle are key to the success of the next Xbox, with Microsoft expected to expand upon its TV content services, with concern over competition from Google and its licensees, along with an increasing focus on access from multiple devices AKA Smart Glass.
What's MOST intriguing perhaps, is the mention of project Fortaleza, an Augmented Reality glasses project, starting in 2014 as a wireless peripheral and, if Microsoft has its way, moving on to 4G and Cloud Streaming in 2015, meaning that the 720 could very well be the last Xbox.
We had been wondering for quite some time just how console makers would move into the cloud, with cloud gaming being a market theoretically possible for any firm with a large enough wallet; a unique interface, with a large amount of IP required to provide strong functionality may very well be the way forward. Certainly this is something for Google to look out for with its Project Glass.
Many readers may, at this point, be doubting the legitimacy of the leaked document, however, there's a fair bit of evidence backing its claims:
The document makes mention to Project Glass multi-screen and multi-device functionality
Microsoft is a well known client of Covington & Burling LLP
Nukezilla made reference to the article last month, prior to the announcement of Smart Glass
We'll leave readers to draw their own conclusions! For those interested, we suggest a quick Google search, as various sites have reported on different elements of the leaked document, each with an interesting insight, building up to the image that the Xbox 720 will be a console for everything, at least as far as the living-room is concerned.