HEXUS reported on Frank Azor's industry shaking announcement last month. The Alienware co-founder and then VP and GM Alienware, Gaming and XPS at Dell, announced that he was leaving Dell on 3rd July. Though we learned what a heart wrenching move this was at the time, and that it would have a significant impact on Dell, there was no official statement about Azor's plans. All we read was the vague statement that "the builder and creator in me is ready for the next challenge," in Azor's farewell blog post. On social media Azor revealed little more, but tweeted that the move would be to grasp "a new opportunity to help continue to grow the gaming industry".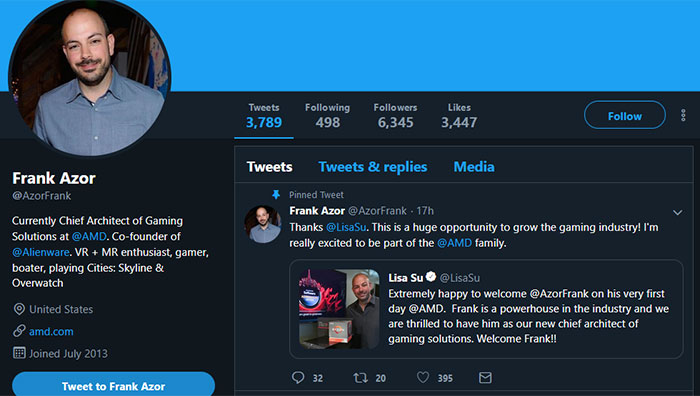 On Monday the rumours that Azor was headed to AMD were proved valid. Azor updated his Twitter bio, which now reads "Currently Chief Architect of Gaming Solutions at @AMD. Co-founder of @Alienware. VR + MR enthusiast, gamer, boater, playing Cities: Skyline & Overwatch". A couple of hours later AMD President and CEO Dr Lisa Su publicly welcomed Azor on what was said to be his first day working at AMD (see screenshot above). "Frank is a powerhouse in the industry and we are thrilled to have him as our new chief architect of gaming solutions. Welcome Frank," enthused Dr Su.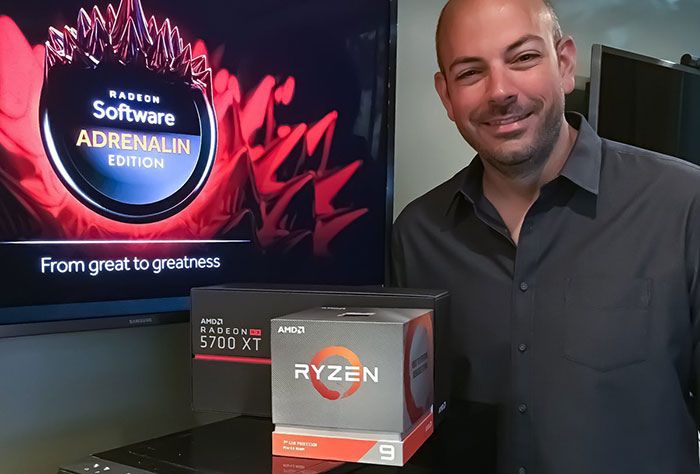 Moor Insights principal analyst and AMD fellow Patrick Moorhead penned a short story about Frank Azor's appointment at AMD on Forbes. Moorhead summed up his feelings that "I believe this is a big win for AMD as Azor is a gaming icon across the industry and has demonstrated he 'gets' the gamer, game publisher, and, of course, the system and peripheral makers".
Some further insight can be gained from Moorhead's knowledge of AMD company structure and operations. Apparently Azor will be reporting to Sandeep Chennakeshu, head of AMD's computing and graphics group. Furthermore, the analyst and AMD fellow reckons "Azor's overall task is to build and expand AMD's cross-platform (PC-console-cloud) presence across semi-custom, Ryzen CPU, Radeon and Instinct GPU and software products." A major duty for the Alienware co-founder will be building "an integrated gaming roadmap," added Moorhead.