Google has revealed more details about its upcoming Stadia game platform. In a launch event ahead of E3 2019, we got to learn more about the platform; the hardware Google has prepared for November, the pricing of the hardware and optional subscriptions, and the games that people will be able to play.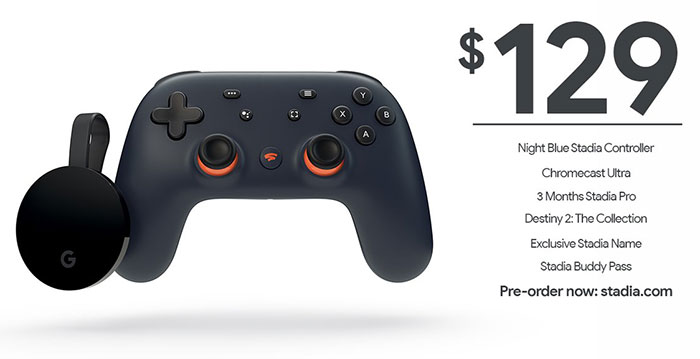 Google's central proposition for Stadia, and its Founder's Edition hardware combo, is as follows:
"The Stadia Founder's Edition lets you instantly enjoy games in up to 4K on your TV without a console. You can also play across laptops, desktops, Pixel 3 and Pixel 3a with cross-screen early access from day one."
On a PC you will be able to access Stadia via the standard desktop Chrome browser to play the games available with mouse/keyboard or any other controllers you have. If you are on a smartphone or tablet there will be the Stadia app to stream the very same games. Where the Founder's Edition hardware combo hardware is really useful is for playing on your big screen TV.
For $130 / £120, the Stadia 'Founders Edition' pack comes with a limited edition nigh blue controller and Chromecast Ultra. As a bonus you will get three months of Stadia Pro subscription paid, as well as three months 'Buddy Pass' for a friend - but more about subscriptions later. Google says this bundle represents "nearly $300 of value". (However, the purely hardware sum is as follows: Chromecast Ultra for £69 + Stadia Controller for £59 = £128).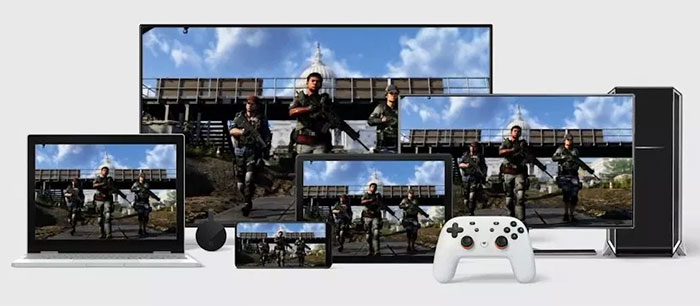 When the Stadia service goes live in November Google promises there will be at least 30 games available from big studios such as Bethesda, EA Games, Rockstar, Sega, Square Enix, Warner Bros and Ubisoft. In turn that means AAA titles like Doom, Destiny 2, Final Fantasy XV, Rise of the Tomb Raider, Assassin's Creed Odyssey, and Tom Clancy's The Division 2 will be playable via the streaming service. One notable name missing from the partners list at this time is Epic Games.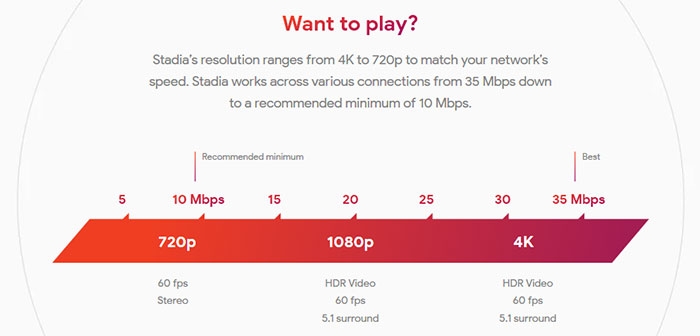 Moving on to the optional subscriptions that Google hopes gamers will sign up to; there is one paid for option and one free. You can see the official comparison table below. However, in summary, paying subscribers get higher resolution streaming, a growing library of free games available to them, and discounts on buying new games. Please note that Stadia Pro opens up in November but Stadia Base will become available later, in 2020.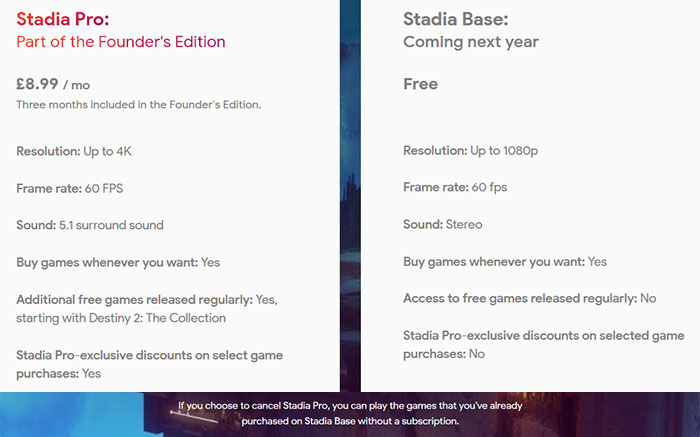 At launch, Stadia will be available in 14 countries; U.S., Belgium, Canada, Denmark, Finland, France, Germany, Italy, Ireland, Netherlands, Norway, Spain, Sweden, and the U.K. More countries will follow in 2020.
AMD's CEO Dr. Lisa Su offered her congratulations to Google in the wake of the announcements. This is particularly understandable, as Stadia servers will be AMD GPU powered.