Just ahead of the weekend the Epic Games Store kicked off its first Epic Mega Sale. On the surface the offer is quite attractive. The headline offer is that on any game priced £13.99 ($14.99) or more the customer can get £10 ($10) off at checkout.
The way the discount works meant some bargains can be had, particularly with games that aren't much more expensive than the qualifying price. Having said that the library of titles available on the Epic Games Store isn't very big compared to more established places like Steam.

Of course there are the more expensive titles, the new breed of (timed) exclusives available on the Epic Games Store. These are typically much more expensive, like £37.99 for Control, £37.49 for Metro Exodus and £28.10 for World War Z. While these highly anticipated titles aren't such bargains with £10 off it is still a decent percentage reduction.
Borderlands 3 - the wrong kind of mayhem
If you search for Borderlands 3 on the Epic Games Store today you won't find the game's pre-order page, it has been pulled and isn't purchasable. However, you will find that the coming soon page for the game is still available.
Interestingly, as the sale began, Gearbox boss Randy Pitchford Tweeted to his followers recommending that they enjoy the $10 off in the Epic Mega Sale, to pre-order a copy of Borderlands 3 (Tweet now deleted).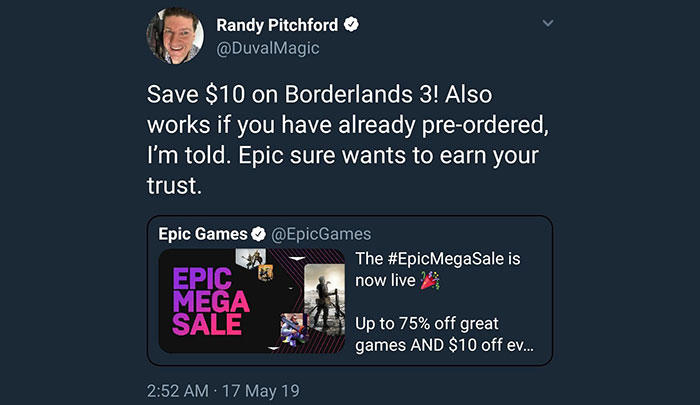 Then, the game's pre-ordering disappeared without explanation. On Saturday a rep from publisher 2K Games responded to a query from Eurogamer, which clears things up, a bit. The brief statement, reproduced below, suggests that 2K Games simply didn't want to participate in the sale, and there was obviously some kind of communication breakdown.
"We are working closely with Epic and have temporarily removed Borderlands 3 from their storefront. We look forward to the game being back on the Epic Games store soon. Games bought during their Mega Sale will be honoured at that price."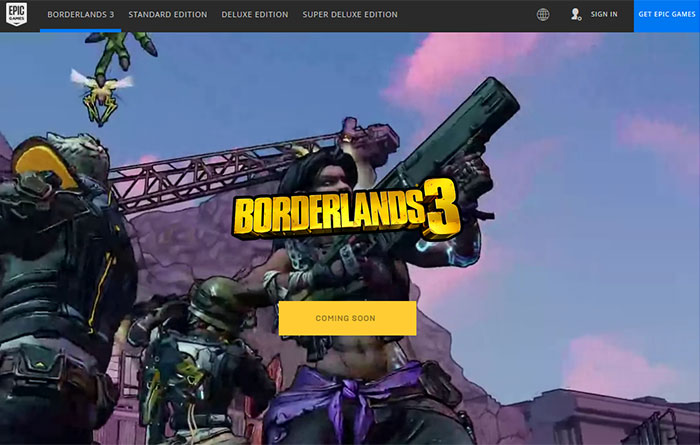 At least some people managed to grab their Borderlands 3 pre-order for £39.99, rather than the £49.99 which is the standard edition PC price.
It isn't only 2K Games which has had such an attitude to the Epic Mega Sale. Paradox Interactive's Vampire: The Masquerade - Bloodlines 2 was also removed some time after the sale started. Kotaku reports that "Paradox chose at the last second—or after the last second, technically—to not participate in the sale". Another game missing, spotted by Kotaku, is space station survival sim Oxygen Not Included.