Succesful gaming clan, Team Dignitas has sent 10 of their global team members to CeBIT this year to carry out a variety of gamiing duties, including competing in Command & Conquer 3 at the Samsung Euro Championships and giving away motherboards at the abit stand.

Team leader Robert Haxton (AKA Moyes) is on hand all week at the abit booth to take on gamers on Need for Speed Pro Street. If you can beat him, you get to take away some abit goodies! It's not his best game either, so he tells me, so I'm heading down to the booth later in the week to take him on.

Also on hand, for the group photo were Israeli pro-gamer, Rubinaldo and German FIFA champion Enrique.

We'll be tracking the progress of Team Dignitas later in the week once the Samsung Euro Championship begins on Thursday.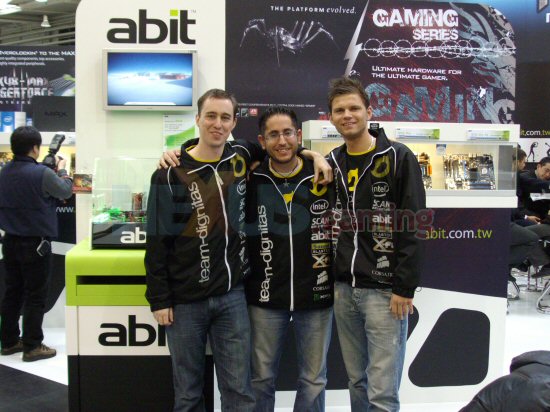 Click for larger image