Over the weekend you might have noticed that Elon Musk, of Tesla fame, launched the Boring Company flamethrower, priced at $500. Yesterday, Musk joked that "the flamethrower is sentient, its safe word is 'cryptocurrency' and it comes with a free blockchain". This garnered a response (via NeoWin) from Randy Pitchford, of Gearbox fame, saying that the Boring flamethrower would be written in to the next Borderlands game.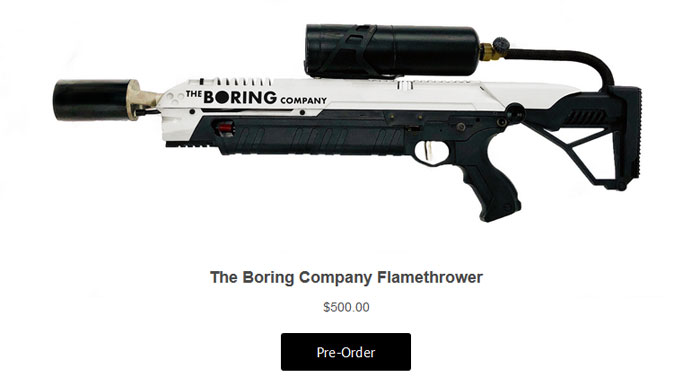 Since Sunday's announcement, Musk has continued to update Twitter on pre-sales of this flamethrower, with the latest total being 10,000 pre-orders (14 hours ago). There are only 20,000 being readied for the pre-order batch. The Guardian put a figure to the rapid selling success of this flamethrower, reporting that it generated $3.5m (£2.5m) in less than 24 hours. The Boring company is also selling "overpriced" fire extinguishers.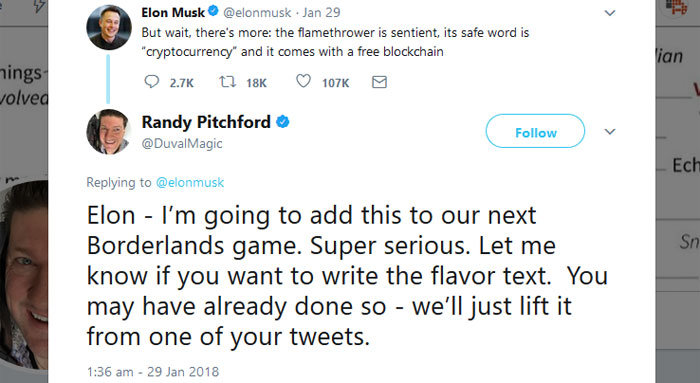 Back to the gaming tie-in, and Borderlands is famous for its incredibly diverse ranges of procedurally generated guns from various mythical manufacturers. I remember that in Borderlands 2 there was at least one gun that was 'sentient' or contained some kind of robot brain. Thus a sentient flamethrower with 'a free blockchain' sounds very apt for inclusion in what I guess must be Borderlands 3. At the time of writing there is no official schedule for the release of a new Borderlands title.
In related news, flamethrowers with a range under 10ft are legal in the US of A. However, a California legislator wants to prevent sales of the device in that state.