Team HEXUS meets AMD Team64.



It sounds like a dream job, doesn't it? Someone pays your costs to fly around the world, play some games, maybe win a bit of cash and then come home. What a life… Of course, the reality is quite different from the dream, as I found when I met up with Jan-Phillip Bohlmeier, captain of AMD Team64, at the WCG Samsung European Championships.

At a mere 20 years old, Jan (second from right, below) runs one of Europe's most successful teams in Warcraft 3, Counter Strike, Call of Duty, Painkiller and FIFA. Jan doesn't play any games competitively on the gaming circuit and concerns himself with running the team as a whole.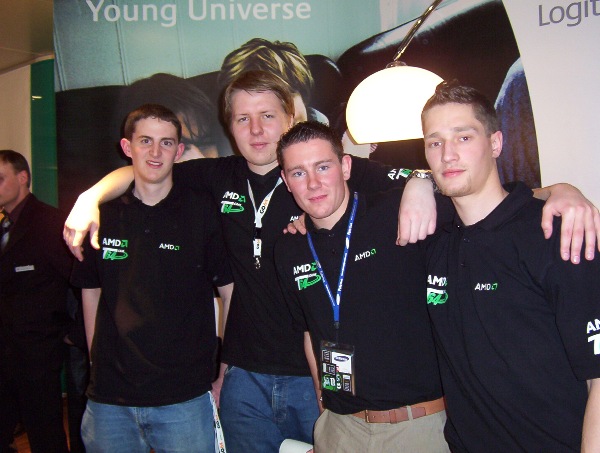 Just five years ago, Jan was an avid Quake player competing as part of a clan, but he found himself gradually drawn more and more into the administration role organizing clan matches, servers and all the strife you have to through to keep a clan going. He's obviously good at it as he was then approached to take over the running of AMD Team64, and since then, they've gone from strength.

Jan's main duties aren't necessarily directly related to the 5 different teams on the AMD Team64 roster. Each team has a squad leader who deals with all the day to day business, leaving Jan free to sort out the bigger stuff like flights, accommodation and the teams' responsibilities to AMD and their partners.

For their part, AMD supply Jan's teams with all the gaming kit they need. Through AMD's partners, Jan and the teams get the very latest kit to ensure that they remain as competitive as possible. Talking about the hardware AMD supplies Jan said,

"AMD's 64 bit processor gives the best performance in the games we play at the tournaments and being able to use AMD in every machine practise and play on is great. It's so fast, it's perfect for gamers"

But AMD don't just supply their processing grunt. Through their partnership deals, which we mentioned in the AMD Treasure Hunt, AMD is able to supply complete systems to the team. The systems supplied vary depending on their use, so the WC3 players get shuttles with AMD Athlon 64 3000s at their heart while the CS team get their mitts on mini-towers wrapped around AMD Athlon FX 51s…. nice… But as well as the processing power, manufacturers such as Corsair, Logitech, Maxtor, PNY, Creative and Shuttle also chip in with kit to get the guys gaming.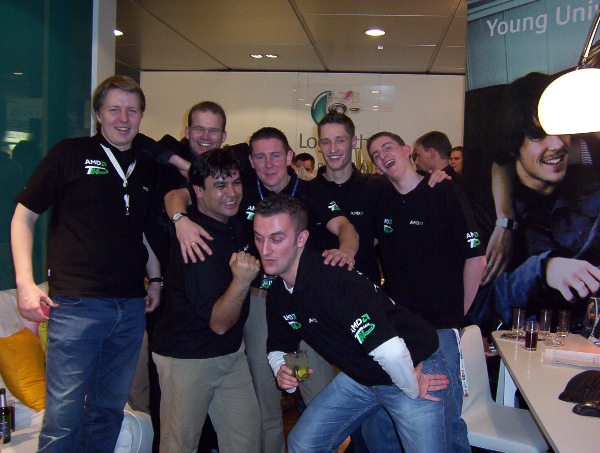 Now if you're thinking of going pro, just hang on one sec. Jan has a few words on that, and he should know, so listen up:

"You've got to be good at a game, I mean, really good. Enter online tournaments and get yourself known…. No-one will sponsor you if you can't show you can win. Getting into a sponsored team has a strong personal aspect, you've got to get out and meet other players, get yourself known and make sure people know who you are… then play hard and win something…"

Sound advice really, it'd be commercial madness to just throw hardware at anyone who just rolled up and asked for a deal. The problem, of course, is that to compete in the big tourneys and get known, you have to be prepared to travel and that can be expensive…. especially if you don't win…. There is the odd Cinderella story though and AMD Team 64 has been involved in one quite recently. They were approached by a chap called DoctorDoom, who asked if AMD Team 64 would sponsor him to go to the CPL in Dallas. The team took a chance and the guy came 4th overall on Doom 3. Not bad for someone who was previously unheard of on the gaming circuit. DoctorDoom is now a fully signed up member plays and Painkiller for the team.

In fact, AMD Team 64 have enjoyed plenty of successes recently, with the 5 man CS 1.6 squad coming third in the EPS for 2004 and winning the CS Champion's league. (Which has got to smart a tad with the SK squads, who AMD Team 64 beat in every final.) The FIFA squad came 3rd in the EPS for 2004 and are currently jostling for one of the top 3 places in this year's season. Last year they were 3rd in the GigaGrand Slam and 2nd at the NGL final. And just to keep the homefires burning, the COD squad came 2nd in the Open Cup and are invited to the Euro Cup as well. And lets not forget the WC3 squad which walked off with the Champion's League trophy in '04 and several In-cup events too.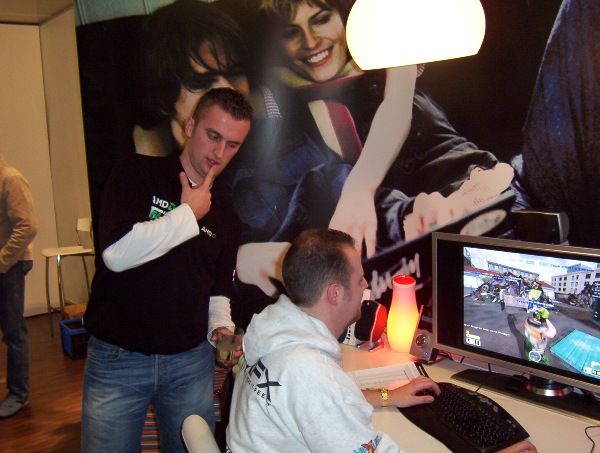 Key to the philosophy of AMD Team 64 is that the gaming should be, at all times, as fun as possible. They want to promote gaming in general to a wider public audience as well as have a good time themselves. And the guys are certainly up for a laugh as they looked on with interest as our very own Andy Davies had a crack on a CS mod called Gotcha…. But given Andy's pwning by the bots, they seem fairly safe in their places in the team.