A new version of the Nintendo 3DS will launch next month in Europe, using a familiar naming formula, it is called the Nintendo 3DS XL. The key feature, as with the previous XL portable model is that the screen is much larger.
The European and Japanese launch has been scheduled for 28th July with the new handheld console released later on 19th August in the USA. However while the company has detailed launch prices for Japan and the US (18,900 Yen and $199.99 USD) no price indication is given for we Europeans. The other territories pricing would suggest a UK launch retail price of £149.99.
Here are the specifications;
90% larger screens (124mm x 106mm) (4.88 inches x 4.18 inches)
When closed the device measures 134x74x21mm
Initial colour availability is either a silver/black, red/black or blue/black casing
Longer battery life; 3D games 6 hours and 2D games up to 10 hours
4GB SD card bundled for e-shop downloads
Weighs 336g ( the original 3DS handheld is 235g)
No AC adaptor included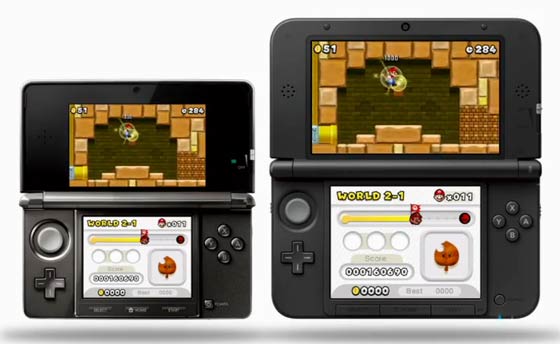 In the Nintendo Direct video announcing the new 3DS XL the company boast of the "Absolutely packed release schedule" with new games in the including following.
New upcoming 3DS games;
Castlevania: Lords of Shadow
Skylanders Giants
Adventure Time
LEGO Lord of the Rings
Scribblenauts Unlimited
Disney Epic Mickey
Sonic All Stars Racing Transformed
Kingdom Hearts 3D
New Art Academy
Freakyforms Deluxe, Your Creations
Free demo downloads in the e-shop, "come back regularly and see what's new"
Super Mario Land first adventure $2.99 in the e-shop from 22nd to 24th June.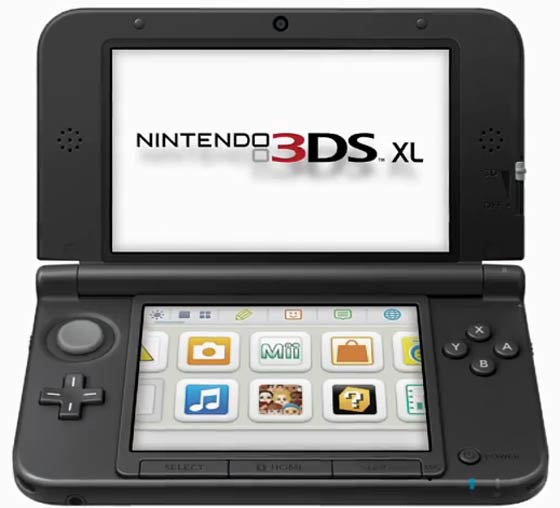 Nintendo has sold over 17 million 3DS devices since the launch of the console in March last year. During this same period Nintendo shares have halved in value. The upcoming Wii U and this new 3DS XL combined with selling more downloaded content are where the company rests its hope for a business recovery.