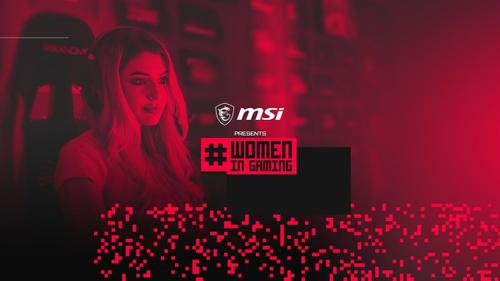 Following on from a successful campaign for International Women's Day 2021, leading hardware brand MSI has created the brand-new show – 'MSI Presents #WomenInGaming'. In an industry predominantly built by men, MSI realises how important it is to help make a positive change. The show will feature some of the leading women from the gaming and tech world, sharing their experiences and advice on life in this space.
"50% of all women in the UK play games, and of which only 28% are acknowledged as gamers or represented in the gaming industry." *
This six-episode series aims to give an open platform to discuss different topics including the difficulties and issues women have faced over the years. Each episode, hosted by partnered streamer and Twitch Ambassador Djarii, will feature a special guest from the industry aiming to give help and advice to people wanting to follow in their footsteps.
Check out the highlights of the first episode that aired here which saw the brilliant Holiwhirl as the special guest.
The second episode featuring BlueEyed_Beth will air on Wednesday 28th 6pm BST here: https://twitch.tv/Djarii
*Statistics from the UKIE player diversity and demographics 2020
[About the host]
Sophia, known as Djarii online, is the UK's most followed* female broadcaster on Twitch. She has been streaming since 2014, originally alongside education and other jobs, she is now a full-time content creator and can be found streaming most days here on her twitch channel.
*Information from - https://djarii.tv/about
Djarii's roots on Twitch, like many, began in gaming. She dabbles in video games across a wide spectrum of genres, from MMORPGs to FPS. Nowadays, Djarii is best known for her creative body art content. After her NYX Face Awards finalist position in 2017, Djarii began combining her passions for drawing, gaming, and makeup, thus introducing bodypainting to a whole new audience through Twitch. As a result of these innovations, Djarii was invited to become one of Twitch's first ambassadors in 2018.
[Previous Campaign]
For the previous international women's day campaign, MSI invited female users to 'Show off what you do best'. Using the #WomenInGaming platform women shared anything that they are proud of, such as their streaming highlights and artwork.
[#WomenInGaming episodes]
Watch the full first episode here on Djarii's twitch channel which saw her and Holiwhirl help the listeners by answering questions that were being put to them live by the Twitch community. They cover the tough discussions of internet bullying and sexism in the community among many other topics.
Ensure you save the date in your diary for the next episode on the Wednesday 28th 6pm BST and follow MSI on all socials for more updates and information regarding the project.
MSI GAMING: https://uk.msi.com/
MSI Facebook: https://www.facebook.com/MSIUK
MSI Instagram: https://www.instagram.com/msigaming_uk/
MSI YouTube: https://www.youtube.com/user/MSIGamingGlobal
MSI Twitter: https://twitter.com/msi__uk

Subscribe to MSI RSS Feeds via https://uk.msi.com/rss for real-time news and more product info.