Community inspired


The dashboard is a formidable place to those who are new to the Xbox 360. This is an ideal chance to see the extensive range of features available at the touch of a button.

The dashboard powers up when there is no disk in the console's tray or by pressing the glowing X button on your game controller or remote control. The dashboard is accessible at all times, even if you are in the middle of a game. In single player games your game automatically pauses, but be aware that the action will continue in online games.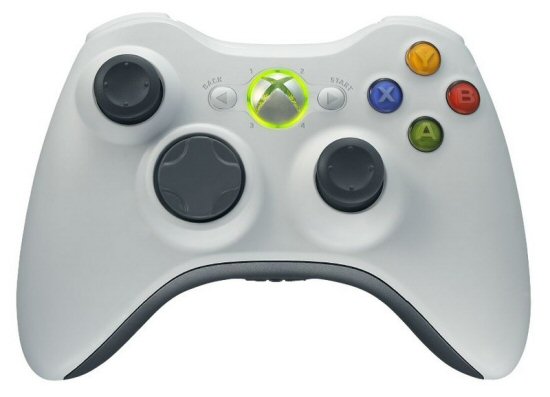 Click for larger image



The dashboard is made up of four panels that flip over from left to right by using your thunbstick or d-pad. The four panels are entitled Xbox Live, Games, Media and System.

The dashboard will automatically begin with the Xbox live menu

Xbox Live Menu

The top left of the screen shows your Gamer Card. By clicking ont he gamer card you can view everything you need to know about your online gaming achievments and profile.

The gamer card screen displays the following information:

Tag Name: This is the name you choose when setting up a new account on Xbox live

Reputation: Your reputation is represented by stars. Other gamers can send postive or negative feedback after playing games with you and this will affect your reputation.

GamerScore: Your score is accumulated by playing games and achieving objectives within those games. Most games have a maximum of 1000 points that can be achieved.

Zone: You can decide what type of gamers you are by choosing either Pro, Relaxation, Family or Uderground. This can be viewed by other gamers and may sway their decision to play with you or not.

Motto: You can choose your own motto which best sums up your personality.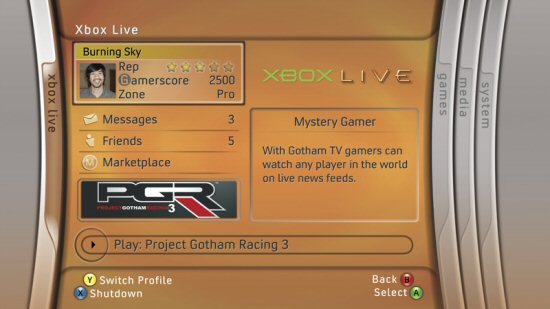 Click for larger image



Gamercards can be viewed on Xbox.com for every gamer who has signed up to Xbox live.

Just underneath the Gamer Card on the Xbox live menu is the Message button. This allows you to see if you have received messages from friends. You can read them, listen to them, delete them or send your own messages. Messages can be sent and received from anyone who you have added to your own friends list.

Under the message button is the Friends button. This allows you to see the number of friends that are online, click on the button and you can see the names of all of your friends. This list will show you which friends are online and which games they are currently playing. For those friends who are offline it will tell you when they were last playing and what game they were playing. By clicking on a friend's name you can view their Gamer cards. You ahve the option to compare your list of games with your friends and compare scores. From your friend's list you are also able to join your friend's game if they are free and of course if you own the same game.