On the official H.A.W.X forum, Community Developer GKane has been answering all sorts of questions about H.A.W.X, from the PC tech specs to every detail about the planes themselves. Read on for detailsl, both general and specific, about the upcoming jet fighter game from Ubisoft. We'll be following this general FAQ in coming weeks with a technical FAQ and a couple covering more detailed specifics about the game.

Q&A Quick-Fire

Is H.A.W.X a simulator or an arcade game?

H.A.W.X is a good mix between simulation and arcade gameplay. We use a fully realistic physics engine that is tuned in a way that allows every player to be able to enjoy it. The focus is being put on the gameplay depth, not on the gameplay complexity. Even if, at a first glance, our game offers a very accessible piloting experience, we also managed to keep the experience very authentic, with a huge room for skills improvement over the time.

H.A.W.X does not aim to simulate reality, but to build on it and provide an experience that feels accurate, while allowing everybody to perform complex, fun and rewarding maneuvers. So everybody will have the same weapons - how you use them is another matter...

Is the story behind H.A.W.X fictional or there will be real settings?

H.A.W.X takes place in the Tom Clancy universe; therefore you will pilot real planes, over real world locations.

All planes are strictly based on the real models in collaboration with each manufacturer and all missions' environments have been created using the exact satellite data from the original locations, in order to make the experience as authentic as possible.

The story takes place in the near future, between 2014 & 2019, with a scenario based on risks that are already anticipated by national agencies, news sources and military experts.

Will there be briefing room scenes before each mission of the game?

Yes, the player will be introduced in each mission with a briefing.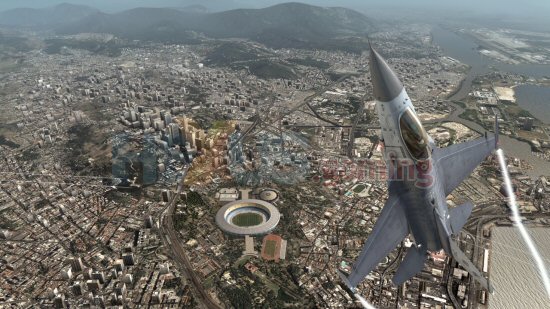 Click for larger image



Will there be "fictional" planes or prototypes?

The game is "Tom Clancy". Our game will have only genuine planes that include amongst them also real prototypes. Every plane inside the game is brought into the game right from the real world. How far away is H.A.W.X from games like "Lock On" or "IL2 Sturmovik"?

H.A.W.X is an authentic game providing a complete air combat experience for all types of gamers and delivers both deep and progressive gameplay; we combine the reality of plane physics with a constant attention to player's control.

Therefore, compared to these very simulation-oriented games, H.A.W.X brings accessibility and a very well paced learning curve. The idea is to have the player feel like an elite pilot of tomorrow in 20 minutes and not after 20 hours of study. But we also ensured that even the most skilled pilot will keep learning new tricks, even after lots of hours of dogfighting. H.A.W.X offers many more options in terms of maneuverability than the usual jet fighter game.

When will the game be released?

Tom Clancy's H.A.W.X is due for release in March 2009.

How realistic will the control of the planes be?

Each aircraft will have a distinctive behavior based on its real capabilities and supported by the game's physics engine. The player's skill in controlling the aircraft and his/her ability to take its specific strengths into account will make a big difference.

However, we didn't want to restrict the game to a certain audience, which is the case if you go full simulation oriented. That's why, in order to ensure that a wider audience will enjoy the air combat experience, we decided to tune some physics parameters, while still respecting the authenticity of air combat. Again, this is about providing the same tools to everyone from the start.