HEXUS Plasma and LCD stand guide
So you have just spent a fortune on one of the best high-definition set on the market and now you only have to wait until the delivery man knocks on the door and drops it off - think again. You have to go shopping for a great-looking, functional stand that will ensure your new panel will look ultra cool and offer you the best viewing experience.

There are a number of different locations your new panel can call home for the next couple of years, depending on the way you want to use your screen. If you bought your screen to play games on and live out of your bedroom, why not use a wall mount to save space? Planning on using your new set in the lounge and expect children to be running around then you won't want to go for a glass floor stand?


VESA Standards
When looking to buy a stand or mount for your plasma or LCD screen, make sure you read your panel's instruction guide. This will tell you the VESA (Video Electronics Standards Association) specification that the set supports. You will then need to check this number against the one in the specification file of the mount or stand you are thinking of buying. If the numbers match up you can guarantee that the screen will securely connect to the mount or stand without problems. This will, therefore, stop the need for you to buy a converter. The VESA standard is an industry-wide specification, so make sure you look for the logo when buying a stand or mount, and thus ensuring compatibility.


LCD Wall Mounts
The whole idea of a wall-mount is to allow you to move your LCD screen from the floor and onto the wall, thereby saving valuable space. The initial idea behind LCD screens was that they would save floor space by moving screens into areas in the home that were not used.

There are two main types of wall-mounts available; each type is secured to the wall using a series of wall plugs and screws. You can buy a static wall mount, which allows you to mount the screen onto a single wall unit, but won't let you move or tilt the screen. These are great if you want your screen to be positioned directly in-front of you at the correct height and angle.

Unsurprisingly, you can also buy mounts that allow you to tilt and turn the screen. These usually come on an arm, ensuring that you can mount the display in a position that suits you and allows for changes at a later date. LCD wall mounts range from £20 for a basic static unit and go up to and over £200 for a more advanced unit that allows tilt and turn.

Make sure when you're buying a mount that it supports the screen size, as they use specific mounting holes. Remember the bigger the screen size, the heavier the panel, so check and double-check the specification before you even consider purchasing.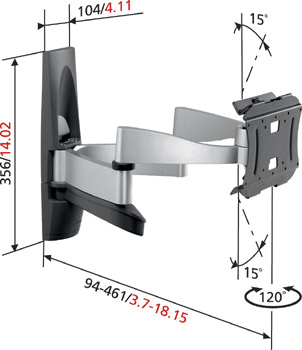 LCD Floor Stands
People usually position their TV in the lounge and opposite the sofa. In years gone by, standard tube televisions were either kept on a horrible black plastic stands or some kind of wooden video-storage unit. This has now, thankfully, all changed as we move into the high-definition era.

It's almost as important to get the right stand to complement your new LCD set as it is in making sure it supports the desired resolutions. The new wave of floor stands look expensive and classy, yet they lack the storage opportunities previous stands offered. If you're looking to buy a floor stand it is prudent to evaluate the environment you are putting it into. Say you have kids running around, would you consider purchasing a cheap glass stand that, if hit, could easily break and injury somebody?

There are a number of good options available with prices ranging from £50 to £500, depending on the make and specifications. Again, it's important to consider the weight of a large-screen LCD and the ramifications it has on the stand you wish to buy.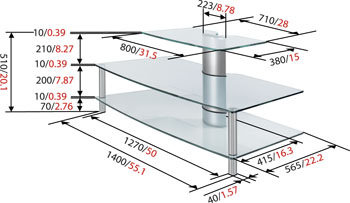 Plasma Wall Mounts
Plasma screens, in general, are larger than LCD panels in both depth and weight. Plasma screens, we reckon, should always be mounted on a wall, as they look much better than on a floor stand. Large-screen displays may need wall-mounts with greater holding capacity. You wouldn't want your £2,000 panel crashing to the floor in the night, would you?

Plasma wall-mounts make it very easy to attach a screen. The vast number of models are now equipped with an easy "hook-on" feature. Nearly all wall-mounts can tilt at an angle allowing for a better viewing experience. It's common sense and prudent to consider a mount with the highest degree of flexibility, obviously. Display sizes ensure that mounts will be hidden behind the screen, so you needn't be concerned about looks.


Plasma Floor Stands
Plasma floor stands are great if you can ensure that you're are sitting far enough away from the screen. These stands offer the same functionality as LCD floor stands, apart from the fact that they can support more weight. You need to ensure that you're sitting at the same height and directly in front the screen (if possible), as a large amount don't support tilting and only a few support the ability to swivel the screen from left to right.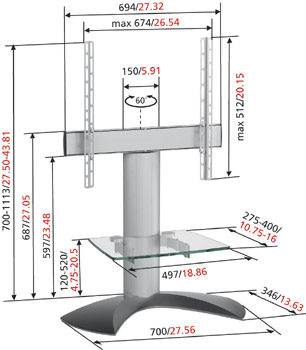 Other options
There are also a number of different options if you don't want to opt for a floor stand or a wall-mount option. If you have no available space for a stand or wall-mount, you can consider a ceiling mount. These mounts can usually be seen in estate agents and offer the ability to swivel panels around a full 360 degrees. I'm sure you agree they do look rather cool but, usually, carry an exorbitant price tag.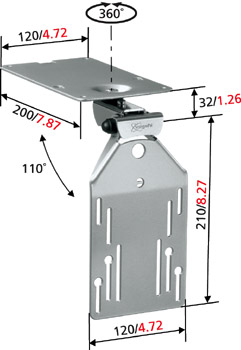 Links
Find below a selection of great UK based plasma and LCD stand/mount suppliers.

AVRabbit.com
Theplasmacentre.com
Triskom
HomeCinemaStands.co.uk
VESA