Introduction
Microsoft has 10 unique webcams available as part of its ever-expanding LifeCam range, but few of them combine features, performance and price as well as the LifeCam HD-5000.
Launched as one of the latest desktop cameras to tout high-definition video capture, the new addition to the LifeCam range provides a 720p HD sensor with auto focus, Microsoft TrueColor Technology, 4x digital zoom and an integrated noise-canceling microphone. A healthy specification for a mid-range webcam, and it's available at a budget price of just £19.99.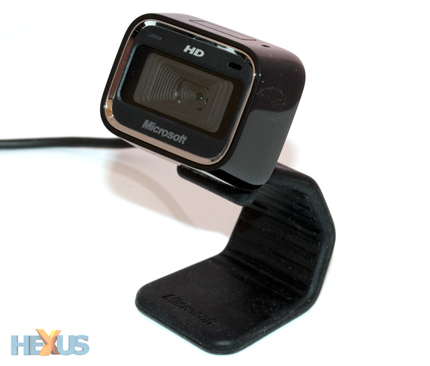 Hardware
Designed to offer a cheap-and-cheerful upgrade path, the HD-5000 - unlike others in the LifeCam range - doesn't feature a high-precision glass element lens or an aluminium body. Instead, the camera is housed in a simple plastic frame from which extends an adjustable rubber mount.
It isn't the most elegant design we've ever seen, and the bendy rubber mount can feel a little cumbersome. It's perfectly stable when attached to a thick desktop monitor or left to rest on a flat surface, but the camera doesn't sit well on a thin notebook display. A shame, considering that the device itself is small, light and portable.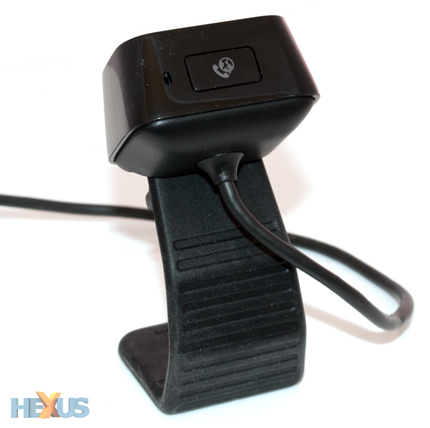 Connected via a standard USB 2.0 cable that's long enough to reach most monitors, the HD-5000 is very straightforward to configure. Run the bundled Microsoft software CD, install the LifeCam software, attach the webcam and you're done.
The HD-5000 is "optimised" for use with Microsoft's Windows Live Messenger - hence the dedicated Messenger Call button that sadly can't be programmed to another app - but will function with other messenger clients such as Yahoo! Messenger, AOL Instant Messenger and Skype. Users of the latter, however, won't be able to make use of the LifeCam's HD resolution for video calls as Skype requires HD webcams that are fitted with an on-board video encoder.
Without the built-in hardware, Microsoft's budget HD cam instead relies on the user's PC to carry out most of the leg work. The minimum system requirements include an Intel dual-core 1.6GHz processor and at least 1GB of RAM, but Microsoft actually recommends at least a 3.0GHz dual-core chip or better. Exactly how CPU-intensive can a webcam be? Whilst capturing 720p (1,280x720) video, we found CPU usage rose to around the 15 per cent mark on an ultra-high-end Core i7 975 processor. Not a great concern for high-performance machines, but the HD-5000 can take its toll on lesser systems. On a Dell Inspiron 1520 notebook (Core 2 Duo T7500), CPU usage shoots up to 45 per cent.
Image Quality
The use of valuable system resources might be a burden, but it's a burden you may be willing to accept in exchange for better-quality webcam video. In use, the LifeCam HD-5000 is able to produce good colour and reasonable detail, and the widescreen viewing angle is great for fitting more into webcam conversations.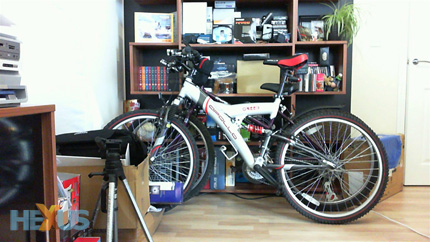 The sample image above sums up overall quality fairly well. The HD-5000 produces results that are notably better than most integrated webcams, but the image remains grainy and TrueColor's attempt to automatically control exposure provides mixed results. Though the subject does benefit from the image processing, backgrounds often appear washed out. Low-light performance, however, is good, and the webcam's integrated microphone does an excellent job of picking up clear speech from around the room.
We found out-the-box auto-focus performance to be hit-or-miss, with the camera regularly dropping out of focus for no apparent reason. Fortunately, a freely-available firmware upgrade solves most of the problems. With the upgrade in place, the camera's auto-focus is less sensitive to small movements and generally keeps the subject honed in. Rapid movement can still throw it, but the auto-focus is quick to respond and provides sharp visuals.
Conclusion and Rating
The results are impressive for a £20 device, and Microsoft's able to sweeten the deal with its bundled LifeCam software utility. The app provides a bevy of special effects and 3D overlays that the kids are going to love, and there are one-click controls for capturing photos, audio and video. At this price point, it's a solid all-round performer that's an ideal starting point for the YouTube generation.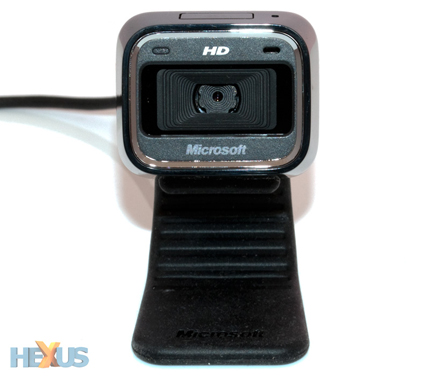 The Good
Competitively priced
Good quality 720p HD video with auto-focus
LifeCam software makes it easy to capture pictures, audio and video
The Bad
Incompatible with Macs
Can be a CPU resource hog
HEXUS Rating

Microsoft Lifecam HD-5000
HEXUS Where2Buy
The Microsoft Lifecam HD-5000 is available to purchase from Amazon.co.uk.
HEXUS Right2Reply
At HEXUS, we invite the companies whose products we test to comment on our articles. If any company representatives for the products reviewed choose to respond, we'll publish their commentary here verbatim.