LG held its pre-MWC 2016 launch event yesterday, as it had promised, to show us all the LG G5 and friends. The 'friends' included not just new LG mobile accessories such as audio and VR headsets, and a 360 degree camera, but a number of modular extensions for the flagship LG G5 smartphone the event centred around.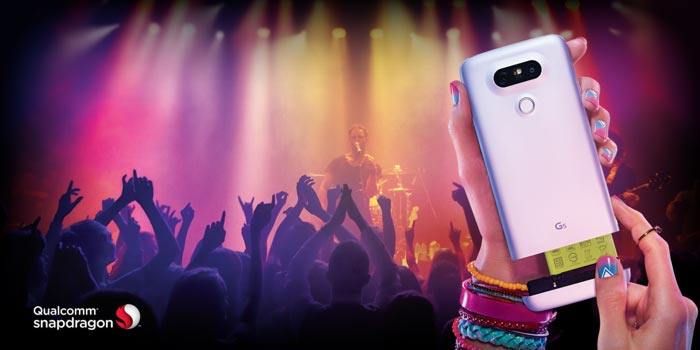 In our first story about the LG G5, back in early February, following the official confirmation of the pre-MWC event, we reproduced a leaked picture showing the smartphone's slide out battery compartment. LG has taken advantage of this detachable component not just to offer a quick, simple way to change batteries in a unibody smartphone, but to offer add-on feature modularity. The LG CAM Plus and LG Hi-Fi Plus with B&O PLAY are the first two modular expansions available for the G5. As you would guess from their names they add extra photographic and audio capabilities to an already high spec device.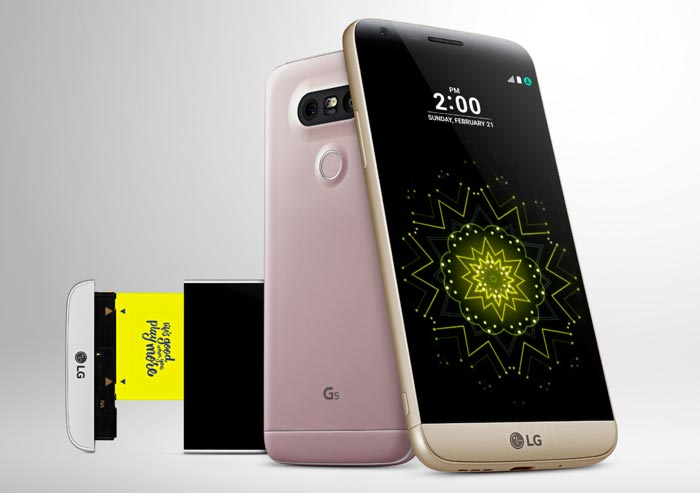 Focussing first on the LG G5 smartphone without any optional modules, the bullet point spec list I assembled earlier this month was pretty accurate. This 5.3-inch 2560 x 1440 resolution screened smartphone is indeed powered by a Qualcomm Snapdragon 820 SoC and features a dual-lens rear camera. Please have a look through the final official spec list below:
Chipset: Qualcomm Snapdragon 820 processor with Adreno 530 graphics and lower-power Qualcomm HexagonTM DSP as well as Qualcomm Spectra 14-bit dual image signal processors (ISPs)
Display: 5.3-inch Quad HD IPS Quantum Display (2560 x 1440 / 554ppi)
Memory: 4GB LPDDR4 RAM / 32GB UFS ROM / microSD (up to 2TB)
Camera: Rear Standard 16MP, Wide 8MP / Front 8MP
Battery: 2,800mAh (removable)
OS: Android 6.0 Marshmallow
Size: 149.4 x 73.9 x 7.7mm
Weight: 159g
Network: X12 LTE modem supports Category 12 download speeds of up to 600 Mbps and LTE Category 13 uplink speeds of up to 150 Mbps. LTE / 3G / 2G
Connectivity: Wi-Fi 802.11 a, b, g, n, ac / USB Type-C / NFC / Bluetooth 4.2
Colours: Silver / Titan / Gold / Pink
Some specs require further explanation, such as the camera functionality. The dual rear camera setup uses a standard 78-degree lens and a 135-degree wide angle lens. Users simply switch between them for better photo framing. LG explains that the super wide angle camera lens will allow users to "capture more landscape, taller buildings or larger groups without having to position oneself further from the subject". A new software feature called Pop-out Picture combines both lens views to create a frame-in-frame effect.
LG's always on display technology will make your battery last longer, says the firm. Due to the display driver IC memory and power management the backlight only illuminates a small portion of the screen devoted to time, date and status info. This uses 0.8 per cent of the battery's full capacity per hour to operate. (So nearly 20 per cent of battery will be used up due to this feature over a 24 hour period.)
In addition to the above, the LG G5 supports aptX HD: 24-bit Hi-Fi Wireless Audio, Qualcomm Quick Charge 3.0, and Low Power Location Estimation (LPLE) Technology to enhance battery life "by as much as 41.9 per cent".
LG G5 modular expansion
As you can see in the pictures above, the LG G5 'chin' can be easily and quickly removed to swap batteries. At launch time LG has two modules to swap for your standard 'chin', the LG CAM Plus and LG Hi-Fi Plus with B&O PLAY .
The LG CAM Plus doesn't offer anything new in the way of optics or sensor for the G5 but makes your smartphone camera functions more accessible and adds extra battery life. Functionality is increased thanks to the CAM Plus physical buttons; for power, shutter, record, and zoom. The expansion facilitates auto focus and exposure lock and also includes an LED indicator and creates a comfortable grip. Built-into the grip is an additional 1,200mAh battery.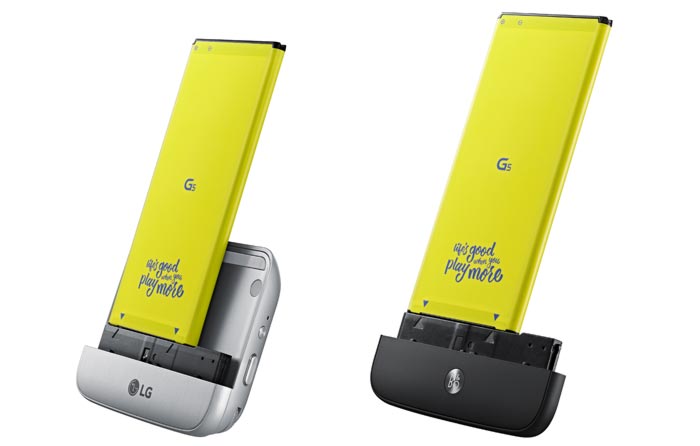 The LG Hi-Fi Plus with B&O PLAY is a portable Hi-Fi DAC audio player promising "top-notch sounds that have traditionally only been available through high-end audio devices". It features a 32-bit Hi-Fi DAC with upsampling technology and 32-bit 384KHz high-definition audio playback. As well as being a modular expansion for the G5 this module can be connected to other smartphones or a PC to provide a separate Hi-Fi DAC.
Summing up the new smartphone's appeal, Juno Cho, president and CEO of LG Electronics Mobile Communications Company, said "The new LG G5 will encourage owners to rediscover the true joy of a mobile life". Cho boasted that the new LG G5 demonstrates that it is "still possible to be innovative and unique in the smartphone space".