A little known Indian handset maker called Ringing Bells has launched a new smartphone which will be priced at 251 rupees (about £2.50). This isn't a price that depends on you signing up to a monthly contract, like you often see quoted by US mobile companies, it is all you need to pay for the smartphone. This sum is about 200 times cheaper, or half a per cent of the price, than many pay for their new SIM-free top of the line smartphone from the likes of Apple or Samsung.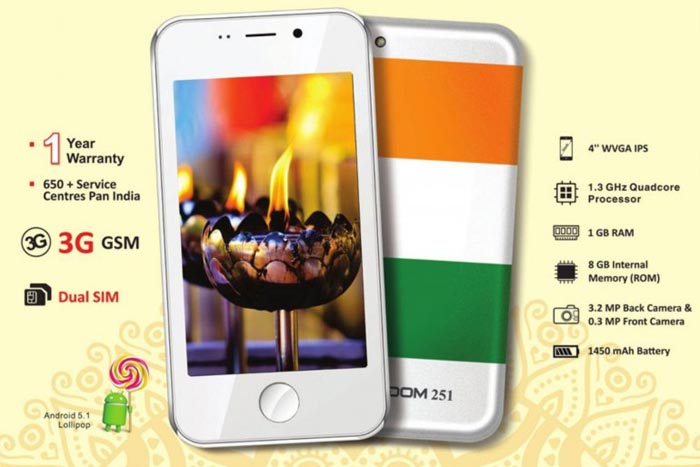 India is the second biggest mobile phone market after China and imports many Chinese smartphones. However this new Ringing Bells model is made in India (admittedly using imported parts) and there are plans to bring the factors of production completely in house, into India, within a year. A ringing Bells spokesperson told AFP, via The Guardian, that "This is our flagship model and we think it will bring a revolution in the industry".
So what do you get for your hard earned cash? According to Gadgets360 the Ringing Bells Freedom 251 comes with the following features:
Screen: 4-inch qHD IPS display
Processor: 1.3GHz quad core SoC
Memory: 1GB of RAM and 8GB of built-in storage and microSD card support
Cameras: 3.2MP main camera and a 0.3MP front facing camera for selfies and video calls etc.
Connectivity: Dual-SIM 3G, GSM, Wi-Fi, Bluetooth, FM
OS: Android 5.1
Battery: 1,450mAh (removable)
Ringing Bells is a newish entrant to the Indian smartphone and mobile communications market and had recently launched a 4G smartphone costing 2,999 rupees.
The cheapest smartphone I've seen available in the UK is the £15 Vodafone Smart First 6, at Tesco or Amazon. This Vodafone branded and network locked 3G smartphone offers worse specs in every department compared to the Freedom 251.