German tech site has published a good deal of Samsung Galaxy Note10 (and 10 Plus) this week. On Wednesday it shared an extensive selection of "official press photos," showing the Note10 from various angles and in a couple of colour options. Today, WinFuture followed up with an article on Note10 pricing and storage configurations. In a seperate development in recent hours, the Galaxy Note10 has been spotted in FCC documentation (including pictures too).
Samsung has confirmed that the Galaxy Note10 will be launched at a special Unpacked event on 7th August. However it hasn't revealed anything of substance with regard to the upcoming smartphone(s) - all we have officially seen is part of the S Pen and a camera lens.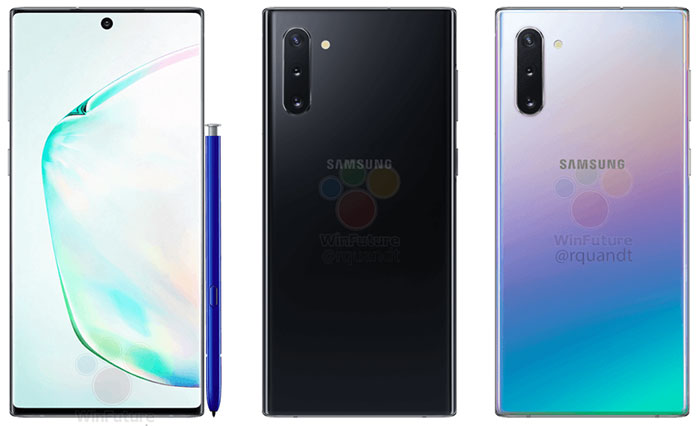 In the WinFuture photos we can see two versions of the new Note 10, though to be the regular and Plus sized models, with not a lot different on the surface. In these pictures you can see a dark grey finished model as well as a Huawei P30-like pearlescent gradient finish.
Both feature a single upper-central screen punch-hole for the selfie cam on the almost borderless AMOLED display. Furthermore, they both appear to have just a volume rocker and one other physical button. Round the back the camera cluster is located at the upper left with no sign of any fingerprint ready - so it must be under-display only.

Some other details shared by WinFuture are that the smaller Note10 will sport a 6.3-inch screen, and the plus model a 6.7-inch screen. It doesn't have any news of a lite or 'e' model to echo the Galaxy S10 offerings, however it does add that there will be 5G variants added to the lineup.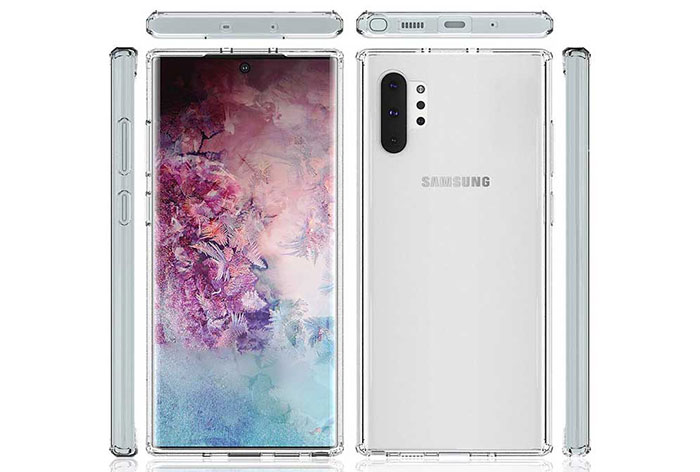 Today WinFuture updated its site with purported pricing for the Galaxy Note10. It says Samsung will price the base model at €999 in Europe and the base model (both Note10 and Note10 Plus) will come with 256GB of built-in storage. If you fancy the larger phone your entry price might be €1149, according to this report.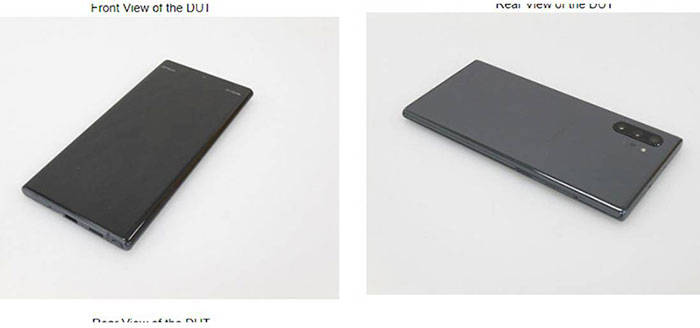 An FCC filing has added some uninspiring imagery, as well as hard details, to the information we have. In the filed low contrast images (above) you can see that the Note10 does indeed eschew the popular 3.5mm audio port and lack a rear fingerprint sensor, as well as other details.