HTC has launched a new home-hub style smart device at MWC 2019. It looks a lot like devices such as the Google Home Hub or an Echo Show but it offers some interesting extensions to previoously seen smart-home assistant style functionality. Perhaps its primary purpose will be as a 5G hotspot in homes - but its 5-inch display, powerful SoC, Android 9 Pie, USB-C video out, and built-in battery open up many more possibilities.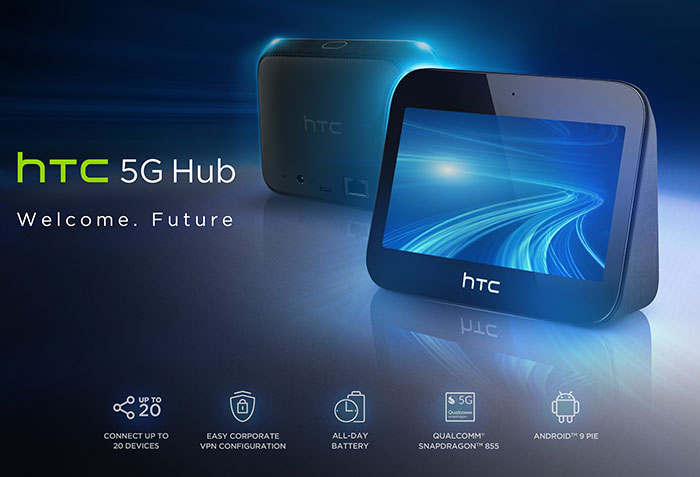 The new HTC 5G Hub is headlined as enabling smooth 4K video streaming, low-latency gaming, and faster networks in your home or office. Leveraging 5G speeds that are "dramatically faster than 4G LTE networks," the Hub can connect up to 20 devices to share its 5G connectivity.
Tech specs of the hub are as follows:
Qualcomm Snapdragon 855 processor
Snapdragon X50 5G Modem using Nano SIM support for up to 2.63 Gbps downlink. Uplink 287 Mbps. 4G LTE fallback support.
5.0-inch capacitive touch screen with 720 x 1280 pixels
4GB RAM and 32GB storage with support for up to 512GB microSD card
USB-C 3.1 with DisplayPort support
Gigabit Ethernet, Bluetooth 5.0, Wi-Fi 802.11 a/b/g/n/ac/ad
Dual-speakers and always listening mic
7,660mAh battery charged via DC port or USB-C QC3/PD 9V/2A
Android 9 Pie with HTC Sense and Google Assistant
129 x 100 x 43mm, 340g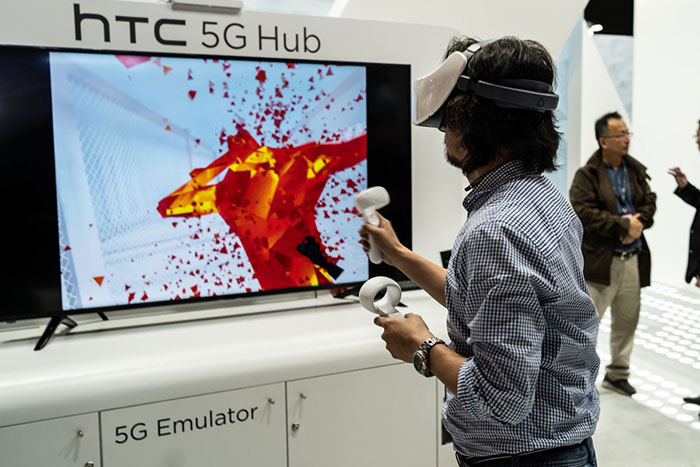 HTC has fingers in VR pies and it talks about its new 5G Hub being a great companion to the Vive Focus headset for "a mobile, high-end VR experience in real time" in the near future - no PC, no wires. More immediately, the hub enables "smooth 4K video streaming, low-latency gaming, and faster networks". It has voice and remote control for quickly accessing and playing media, or for streaming games at up to 4K and 60fps.
The built-in 7,660mAh battery is claimed to last "all day" in the marketing material. And thanks to the battery backup you can easily take your router on a trip, to the park, or to a friend's house, for example. Reverse charging is available too. Office users might find the both the built-in Gigabit Ethernet and the easy configurable VPN functionality appealing.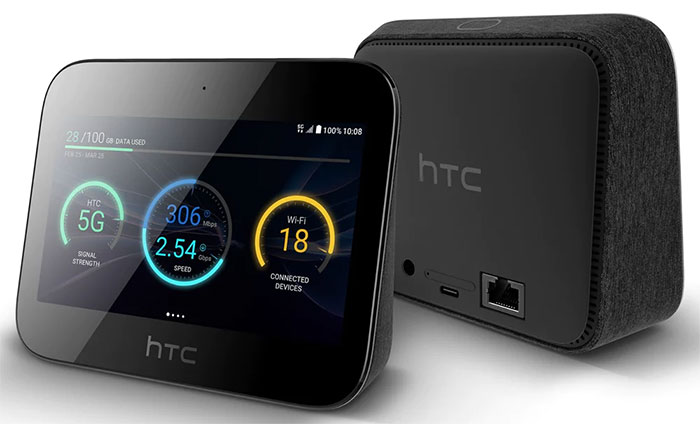 The HTC 5G Hub will be available from carriers such as Sprint (US), Telstra (Australia), Three UK, Deutsche Telekom (Germany), Sunrise (Switzerland), and Elisa (Finland). We don't have any pricing estimates - it might be mostly bundled in service contracts - but we hear the HTC 5G Hub will become available during H1 this year.