If you're in need of an uplifting story on an overcast Wednesday morning, they don't come much better than this.
Over in Bangkok, Thailand, a fireman has used a Spider-Man costume to cleverly help rescure an eight-year-old boy from outside a third-floor window.
According to Thai police, the boy - an autistic student attending his first day at a special needs school - began to cry and climbed out of a third-floor classroom window, prompting teachers to alert the fire and rescue services.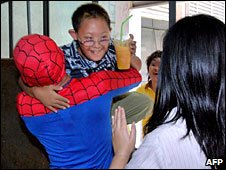 On arrival, fireman Somchai Yoosabai was told by the boy's mother that the child had a love for comic-book superheroes. Thinking quickly, Yoosabai rushed back to his locker to dress up in a Spider-Man costume he had previously used to entertain children in school fire drills.
On his return, Yoosabai appeared before the boy as Spider-Man - holding a glass of juice, no less. With a smile on his face, the boy ran into the arms of his superhero saviour, to the delight of his mother and watching teachers.