49-year-old Yves Rossy will today attempt to become the first "human jet" to cross the English Channel with a device that we've all wanted to try; a back-mounted jetpack.
Rossy, a Swiss airline pilot and former fighter pilot, will will drop from a Pilatus single-engine plane at 8,000ft above Calais, France, at approximately 1pm. He'll then open his kevlar wings and switch on his four wing-mounted turbines.
Carrying 30 litres of fuel, he's expected to travel at around 115mph and will reach Dover in roughly 13 minutes.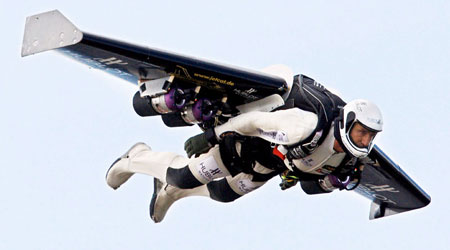 The self-titled Fusionman states that his wings are a fusion of his body, and simple movements of his head and legs allow him to turn, bank and descend with ease.
With the English Channel measuring some 21 miles long at its shorted point, Rossy isn't taking any risks. He'll be wearing a fireproof suit, carrying two parachutes, and a flotation vest - in case he should fall short and meet water.
Despite his breathtaking contraption, Rossy will be without sat-nav and will be guided by a support plane and a pair of helicopters. If you happen to be in the South Foreland area in St. Margaret's Bay, Dover, Kent, keep an eye out for Fusionman later this afternoon.
If Dover's out of reach, here's a video of a Yves Rossy demo flight in Switzerland: